Getting a new harness for Rupert was a difficult one as the large chest bone in dachshunds makes most harnesses cut into them slightly.  When Woofles contacted to introduce the Dual AirMesh dog harness I just had to try it.  Having tried other dog harnesses previously we were keen to try something different.
Ordering a medium harness was just perfect and the whole process was smooth, including delivery.  The item arrived very well packaged and was unbelievable from the moment I opened it.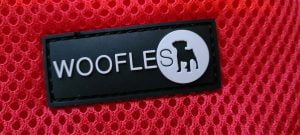 I ordered a Red as Elliot's favourite colour is Red and Rupert is Elliot's doggie.  It was bright and immediately grabbed my attention.  Both the harness and lead were well packaged and stood out from any other Harness we have owned for Rupert.
Once I took the harness out of the packet, I could immediately feel the amazing quality and comfort that this harness would provide to Rupert.  The material is extremely soft and the overall feel was exceptional.  The lead was nice and firm and is a no-pull harness which is perfect as Rupert likes to wander.  also included was a nice little message for me as the customer which was an extremely nice touch.
The choice of the harness was Small, Medium and Large and an array of colours.  Woofles also have a messaging service that will respond within 60 minutes should you need help with getting the correct size for your dog.  Another amazing feature was the thickness of the harness.  You can tell this product is extremely well made and I couldn't wait to try it on Rupert and take him out.
Let's take a look at some of the best features of the Woofles Harness;
Safety:  The buckle is secured with heavy-duty stitching to keep nice a secure to the harness.  The buckle is made from strong plastic and simple release function.  Can also be used with a seat belt clip for car safety too.
Comfort: As mentioned above the harness is extremely comfortable and the Dual AirMesh really helps with that.  The thickness of the harness helps your doggie feel safe and snug inside and provides so much comfort to your dog when walking.
Movement: Each and every Woofles harness is certified by veterinary professionals.  Woofles guarantee that their products will not have a negative effect on your dog's movement.
No Pull:  Both the lead and harness are designed for no pulling.  The D-Ring on the top is the simplest design to help with this.  also, when walking, the harness will not choke your dog or put any pressure on the neck, even when giving a slight pull.
Cleaning: Finally, the harness is so easy to clean and can be used for very long periods of time.
In Summary
Overall the Woofles harness is 100% amazing and one we would absolutely go to again should we ever need another harness.  Rupert is so comfortable when walking and does not mess/stop too often due to being uncomfortable.  He seems more relaxed and seems to enjoy his walks that little bit more.