Here are six dog training tips to help support you on your dog walks. Using these better walking tips, we have been able to train Ralph.  We have had Ralph from being a puppy and training has been very difficult.  He often pulled on the lead, barked at every man, woman, and child, and regularly tried to walk off from us.  We researched, tried, researched a little more until we found the best techniques that worked with Ralph and enabled us to start mastering dog walking.  We wanted to share some better walking tips that we have learnt to help improve the everyday walk and help you start mastering dog walking.
6 tips for Mastering Dog Walking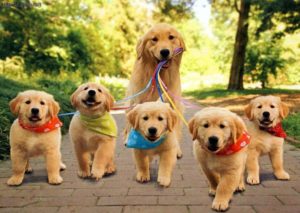 1. Walk in front.
Walking in front allows you to be seen as the pack leader. Conversely, if your dog controls you on the walk, he's the pack leader. You should be the first one out the door and the first one in. Your dog should be beside or behind you during the walk.  This is number one for a reason, it is the best place to start to help master dog walking.  Many people make the same mistake as we did and just go for walks and let the dog run as far as it can go.
2. Use a short leash.
This allows you to have more control. Attaching the lead to the very top of the neck can help you more easily communicate, guide, and correct your dog. If you need additional help, take a look at the Leads and Harnesses section. Always keep your dog's safety in mind when giving corrections.
3. Give yourself enough time for the walk.
Dogs, like humans, are diurnal, so taking walks in the morning is ideal. I recommend setting aside thirty minutes to a full hour. The specific needs of each dog differ. Consult your vet and keep an eye on your dog's behaviour to see if his needs are being met. If you don't leave enough time, the next walk the dog will start pulling on the lead and your back to square one. Mastering Dog Walking is all about being patient and enjoying the walk yourself
4. How to reward your dog during the walk.
After your dog has maintained the proper state of mind, reward him by allowing him to relieve himself and sniff around. Then you need to decide when reward time is over. It should always be less than the time spent focused on the walk.
5. Keep leading, even after the walk.
When you get home, don't stop leading. Put away his leash or take off your shoes before removing the harness.
6. Reward your dog after the walk.
Mastering Dog Walking will be made a lot easier with rewards.  By providing a meal after the walk, you have allowed your dog to "work" for food and water.
And don't forget to set a good example by always picking up after your dog!
Check out this YouTube video to see just how easy it can be done
Related Pages:
Share your experiences in the comments below.  Have these tips helped?  Have you got any more to add?

Save
Save
Save