We often search for products that are good for our dog's health. Dogs enjoy a power-packed activity filled with fun and sports. It is recommended to test their agility using training equipment. There are so many products available in the market regarding dog agility training equipment for your pet. You can train your dog in your home by using these products.
Training your pet dog will not only make him active and sporty, but it can also be very rewarding for you and your little friend. It strengthens the bond between your dog and you; it also stimulates their mind and provides physical exercise. Time to make your dog more athletic, your dog can do more than just playing catching ball at the park. You need to start with the best dog agility training equipment! Your dog will respond the way you like PLUS it is great fun.
What is Dog Agility Training?
If you are new to this term, dog agility is a fun sport, especially for dogs where their trainers or owners guides them to cross obstacles with accuracy in a course of a given time just like a race. The dogs run in the agility competition according to the handler's commands, without any food or pet toys being used to encourage them. You or the trainer won't be allowed to touch any obstacles or your dog; the dog must listen to your voice commands and hand signals. This canine athletic sport is the best way to interact with other dogs, inculcate and boost the confidence of your dog.
Agility sport helps to improve communication between you and your dog. There may be one or different types of obstacles like tunnels, hurdles and see-saws in the competition. The platform or surface on which the dog agility is performed consists of rubber, dirt/mud, grass or mats. Hurdles and the course design can be tailored to suit the dog's size. No matter which dog breed you own, all breeds are free to participate in the agility contest.
Good news for you! Dog agility training is no longer confined to professionals; you can train your canine yourself at home. All you need is some dog agility training equipment and a spacious race track.
Also Read:
Best Dog Agility Training Equipment for Home

There are literally hundreds of different training methods to teach your dog when using dog agility training equipment.  Agility training is fast-paced and requires a lot of skill in you and your dog to ensure timing is perfect.  To help with the training there are beginners kits that are ready and available for home use.  This can quickly help your training and ensure your dog has regular exercise and mental training.
Check out some of the Best dog agility equipment kits below:
If you are new to dog agility training, it's best to start from an open tunnel. Length can be varied when your dog becomes a pro in moving inside the tunnel obstacle. The open agility tunnel by HDP is the best choice for you and your four-legged fellow to have a fun-filled training session. Your dog will enjoy this form of exercise the most. This classic design tunnel measures 18ft in length and has a wide 24 inches opening. A wide diameter allows almost all sizes of dogs to move inside freely and provides enhanced mental stimulation.
Available in blue colour, the tunnel is made from durable and light-weight material making it easy for carrying around. The fabric used for making this agility tunnel is the woven intertwine oxford Polymer called Dacron. It makes the tunnel totally waterproof, resistant to UV rays and tears. Your pooch will be totally safe; this tunnel is static-free and won't cause any sort of allergic reaction.
Other tunnels in the market have plastic grommets, the HDP tunnel comes with steel grommets that add to the extra durability. Steel grommets are stitched to the tunnel helps it to have a secure position on the ground. Extremely portable; the tunnel weighs 2.38 pounds only and comes with a handy carrying case that includes a transparent pouch of plastic. 3mm is the diameter of the steel spring. The 7 inches long 8 stakes included are designed in such a way to keep the pooch free from any scratch. Moreover, this HDP tunnel meets all the AKC specifications.
Pros

Made from high-quality Dacron fabric
The short design of the stakes avoid scratches
Light-weight and portable
Convenient carrying case
3mm diameter steel spring
AKC certified
Durable steel grommets
Super long tunnel length; 18ft
Waterproof and tear-free
Easy to assemble

Cons

The stakes are weak
Not suitable for wild dogs with long nails
The weather might affect your dog's agility training. Looking for a complete dog agility training kit that can be used indoors in bad weather? Agility is no longer just outdoors. The answer is Outward Hound's agility kit for indoor use. This kit comes with a variety of obstacles that boosts your pup's physical and mental health. The training tool kit is a great source of exercise at a very affordable price. Your dog won't be bored of the same obstacle; this ZipZoom kit has 3 fun obstacles that will strengthen the bond with your pooch through interactive play.
You will get one foldable easy carrying tunnel that has a square shape, a high jump obstacle that can be adjusted according to the pup's height and size. This kit also includes 4 collapsible agility weave poles. Best for outdoor and indoor play; the training obstacles are extremely light in weight and portable. This is not it; the agility kit is super easy to set up and takedown in minutes. An easy setup and training tips booklet is also included in the package to help you train your little pooch like an expert.
A tunnel, poles, and jump, what do you want more? An amazing and innovative way to play with your dog indoors! The ZipZoom kit is great for training and teaching new commands.
Pros

old up tunnel
4 to 6 weave poles
Adjustable long jump
Durable and light-weight
Training booklet included
A storage bag
Easy and quick set up
Indoor use

Cons

Suitable for small dogs only
No weight at the base of poles
Flimsy
Not good for outdoor use
The agility training kit will provide a great way for your dog to exercise outdoors. Get ready for your pup's mental and physical workout. This kit comes with 3 fun agility obstacles that you can use to play and teach new tricks to your little furry guy. Strengthen your relationship with the dog and improve his IQ and mental alertness. Outward Hound's outdoor kit has endless ways to entertain your dog.
The kit comes with 6 weave poles, each having a length of 18 inches with 3.5 inches stake length. You will also be getting a single fold up tunnel obstacle that is 36 inches long and has a wide diameter of 24 inches. The open tunnel allows every dog size to pass through the tunnel in one go easily. The third fun obstacle included in this outdoor kit is the long jump which can be adjusted up to a maximum height of 21.5 inches. The jump hoop has a diameter of 21 inches.
The kit is perfect for beginner to intermediate practice. An easy setup and training booklet is included to set up this outdoor agility kit in a few minutes. Storing these obstacles is not a problem; the Outward hound provides you with a storage bag to keep all the kits together.
Pros

34 piece agility kit; tunnel, weave poles and jump
Easy assembly in minutes
Training booklet included
A travel bag provided
Promotes the well-being and health of the dog

Cons

Weave poles short for German shepherd breed
Made from plastic; not durable
Looking for the agility kit that has all the dog training equipment? The solution is the kit by the brand Affordable agility which is suitable for dog breeds. This fun practice training agility set includes everything you need to start off the training session with your dog.
Agility in the bag offers 5 fun obstacles. The first thing in the kit is a long bar jump that is 36 inches wide and there is an option to adjust the height to 26 inches in length. Then you get 6 weave poles that are 33 inches tall and widely spaced at 24 inches allowing your dog to pass easily while dodging the poles.
Another obstacle provided is the tire jump with adjustable height and 22 inches diameter. The tire is all covered with blue fluorescent tape with red marks. The tunnel features an 8ft long chute which can be removed. The tunnel has a diameter of 22 inches and a length of 3ft. The fifth obstacle is the square-shaped pause box with dimensions 36 by 36".
This agility kit is made in the USA from high-quality furniture grade PVC material that is fully protected from rusting and sunlight. Every obstacle is well-equipped with free-standing PVC bases that make this agility kit suitable for both outdoor and indoor use. Storage is super easy with the sturdy and portable 38 x 30 x 3 carrying case; the entire kit weighs about 25-30 pounds only. Decorate it your way with the red and blue vinyl tape provided!
Pros

5 piece agility kit; tunnel, weave poles, bar jump, pause box, and tire jump
Easy to set up
Suitable for indoor and outdoor use
Light-weight and travel-friendly
Made from durable ¾ PVC material
Just like real agility contest equipment

Cons

The kit comes undecorated
The tire is of cheap quality
This 4 piece of equipment by Pawhut is perfect to set up in your backward to improve the bond between the dog and the handler. The training includes different types of obstacles Start off your dog's fitness adventure with this agility set that contains all the things required during the training sessions.
It comes with an open tunnel having a round shape and blue in colour. The tunnel is 58.5 inches long with a wide diameter of 24 inches. The fabric used in tunnels construction is the 190T polyester that prevents ripping and tearing. You get agility weave poles, jumps and a pause box that is square in shape. While training, these 4 obstacles will maintain your pooch's high interest.
The two vertical poles have 34 inches long while the 8 slalom poles in yellow and blue colour are 24 inches in height. The crossbar measures 33.5 inches in length and has a diameter of 1.5". Being extremely light-weight, the entire kit weighs only 8.2 pounds. No worries when it comes to storage, these agility equipment are very easy to set up and disassemble for easy storage in a square (35″ L x 35″ W) carrying bag. Highly safe and secure for your little friend; the kit comes with rope and ground stakes to secure the obstacles in fixed positions.
This pet agility training set by Pawhut is an excellent piece of equipment to train your pet. Your dog's sense and ability to follow orders can be well trained by this set. It is a great tool to use from your pets early age to create a bond between you and your dog, which will provide a comfortable and happy experience for both.
Features:
With long sturdy spikes to secure into the ground
• Adjustable height of the high jump
• Bag provided for Portable packaging
• Inspires interactive fun
• Promotes your dog's health and well-being
• Accessories Included 6 steel stakes, 4 spikes, 1 string and packaging bag
Pros

Equipment variety; tunnel, bar jump, pause box, and weave poles
Secure and safe ground stakes and rope
Durable and light-weight polyester made
Easy to set up
Carrying bag included

Cons

Poor directions for setting up the obstacles
If beginners are looking for equipment to train their pets for agility contests, this PAWISE hurdle bar is the best option. This three-pole hurdle jump is perfect to be used outdoors. It comes in blue and yellow in colour. The poles will only stick on any sort of artificial grass and mats as well.
The two poles are set vertically while the third pole is clamped well with the other two poles. The hurdle jump measures 46.1 x 2.4 x 2.4 inches and weighs only 1.3 pounds. Each blue-coloured vertical pole has a length of 115 cm while the horizontal orange-yellow coloured pole measures 109.5 cm.
Don't worry; the poles will stick to the ground securely as vertical poles have 15.5 cm steel pins at the end for attachment. This starter kit is extremely lightweight and portable. You don't need any training or directions to assemble this hurdle jump. It is an extremely easy and quick to set up. No matter what the size of your dog is, you can adjust the height of the hurdle bar. Start with the lowest height for safe agility training. A good way for you and your pooch to exercise!
Pros

Adjustable jump height
Light-weight and portable
Outdoor use
easy carrying case
Safe for your dog
Easy setup

Cons

Not to be used in bad weather
Another agility equipment by PAWISE is the jumping ring which your dog will definitely love playing.  The jumping ring measures 30 x 2 x 21.6 inches and weighs 2 pounds. You get two vertical poles in blue colour that has 115 cm in length. Vertical poles are inserted into the ground with the help of steel pins at pole ends that measure 15.5 cm in length.
The two horizontal yellow coloured poles to attach the tire are 109.5 cm. Horizontal poles are attached to the vertical poles with the help of black plastic clamps that keep the ring jump secure in place. No scratches; the ring is made of flexible plastic that is totally safe for your dog.
The plastic ring attaches to the poles with stick-on tape. The material used is resistant to UV rays and water, so it is totally safe to use outdoors. Improve your relationship with the dog with this best and most fun exercise form. Very convenient to carry, you can easily set up and take down this ring jump set in a matter of minutes. Moreover, the PAWISE ring jump comes with a convenient carry bag for travelling and storage.
Pros

Safe for dogs
Best for outdoor use
Easy travelling and storage
Quick set up
A good starter kit

Cons

Pricey
Weak plastic ring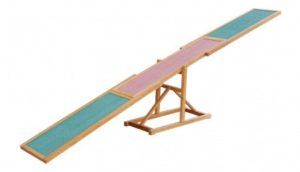 This SeeSaw is made from high-quality Firwood and is covered with High-quality Non-slip asphalt felt.
The SeeSaw is easy and quick to assemble and is approx L118 x W13.4 x H21.3inch.
This is great agility equipment for your dog/pet and ensures balance and precision within your dog.
This see-saw is great for teaching your dog balance and awareness.  Your dog may struggle at first as soon as the see-saw moves, it can startle your dog.  After several attempts, your dog will quickly understand what is happening and be fully aware of what to do.
This helps when on walks, your dog will learn to check unsteady surfaces before heading into the unknown.  Plus when your dog isn't using, your kids can have hours of fun.
A new form of agility equipment that will make your dog more mentally alert and healthy! This training set guarantees you to make your pooch obedient. This agility set by Lord Anson contains 8 cones that are blue in colour and 4 orange rods that make it a jump obstacle.
A team of experts and professional dog owners have designed and tested this agility kit. The cones are made from high-quality material and have a robust strong base moulded that adds extra stability. The rods will fit securely and perfectly to the cones and won't slide a bit while training.
The transport and storage is very easy as cones stack and rods are extremely lightweight and portable. Heavy-duty threads add to the durability of the cone set. Agility rods are super long measuring 5ft in length and have a diameter of 7/8″. You can adjust the rod height according to your dog's size. It can be set to 5, 9, 13 and 17 inches in height. The rods are un-bendable!
They are constructed from high-grade and thick-gauge plastic so they stay straight throughout the training session. These multi-purpose rods also work as weave poles. Each cone has a height of 21 inches approximately with 4 holes for placement of the rods.
Your dog will surely thank you later!
Pros

Fun agility obstacle
Well-constructed; durable
Adjustable height
Quick set up
Easy transport and storage
Light-weight
Safe for pets
Rods also function as weave poles

Cons

Not very stable
Expensive
This practice tire agility obstacle is the best choice for all dog trainers who have limited space. The hoop jump equipment takes up minimum space and works best for all sizes and breeds of dogs. Made in the USA, the material used is highly durable yet so sturdy. Hoop has a diameter of about 29 inches and is constructed from PVC being very light in weight, unlike heavy and expensive tire jumps.
You can get this hoop practice agility equipment for $59.99. The hoop tire will assemble in a few minutes and is easy to take down. The height of the ring is adjustable no matter what size of dog you own, from as low as 6 inches from the ground and a maximum height of 32 inches can be achieved.
Pros

Made from high-quality PVC
Adjustable height
Sturdy construction
Portable; light-weight
Quick assembly in a few minutes
Can be used both indoors and outdoors

Cons

No carrying bag
Less stable
Dog Agility Training Equipment
The equipment is some of the gear used during the training sessions and obstacles that are used in the original agility dog's sport. The obstacles used in the agility training include:
This looks like an alphabet 'A' shape, having two board ramps that should be 8-9 feet long and 3m wide in dimensions. Both the ramps must be hinged together in such a way that the frame should be almost 5 to 6 ½ feet from the ground. The contact zone on both sides is 36-42 inches and painted in bright yellow colour usually. As the rule suggests, the dog should always put one paw on the contact zone as it climbs up and descends.
Before you start training your dog on an 'A-frame', the horizontal ramps should be set up as per the dog's size. The steep slopes can make your dog scared, so it is advised to raise the frame height step by step.
This dog walk agility equipment has 3 wood planks that must be 8 to 12 feet long and 9-12 inches wide in dimensions. The middle plank is about 4 ft from the ground with having two planks forming a ramp which the dog uses to ascend and descend the central raised plank. Dog walk obstacle also possesses contact zones painted yellow. This hurdle type will improve your dog's balancing ability during agility training.
This equipment looks just a see-saw at a kid's park with a plank that is 10-12 feet long pivoted on a kingpin. It should be constructed in such a way that the plank weight and balance point must make the other end of the see-saw descend in a timely manner to the ground with even a tiny dog. It is better to use an adjustable base for teetering for having great agility training fun at home.
The most popular dog agility training equipment is the tunnel which is used by almost all professional trainers. It is also an essential component for agility training at home. A dog tunnel is made of a vinyl tube 10-12 feet in length and a diameter of 2 feet through which your dog will run.
To start, a straight line tunnel should be used. When your dog has gained confidence, add more curves with the help of a flexible wire. The tunnel helps the dog to crawl and push out himself from the pipe. Most of the tunnels are resistant to water and UV rays. Make sure that the tunnel has much space for your dog to pass through it easily.
There is another type of dog tunnel known as cloth or chute tunnel; a cylinder fitted at one end of the fabric tube that is about 8-12 feet long. The fabric tube lies closed before the dog approaches the open end of the fabric and pushes himself out. For this reason, it is also called a collapsed tunnel.
Jumps or hurdles are important agility training equipment to make your dog more mentally alert. This hurdle consists of a horizontal bar that your dog has to cross by jumping through it. The bar height can be adjusted for different sizes of dogs and their jumping flexibility. The jump obstacle may be a stanchion or a simple PVC pipe with different colours and patterns. When practising at home, use the lightweight bar in order to minimise the damage to your dog if he fails to jump rightly.
Various jump types build up the physical endurance of your dog. For a spread jump, the horizontal jump bars are placed in an ascending or parallel manner and the dog has to jump over without being touched with the bars. A double jump has 2 bars whereas a triple one has 3 horizontal bars that are always placed in ascending manner and the spread varies with the dog's height.
In a panel jump, the bars are vertically placed that are built of many short removable solid panels for the height adjustment.
As the name suggests, this obstacle involves a tire with a diameter of 18-24 inches that is suspended in an aluminium steel or plastic frame. The dog has to jump through the tire opening and the height adjustments are made depending on the dog's size and breed. The tire's visibility is enhanced by wrapping it with bright glowing tape. It also covers up the uneven tire surface that may hurt your dog. This agility obstacle requires a great deal of practice for your dog to pass through the tire in one attempt.
A pause table or box is a square platform where your dog must stop for a certain time in seconds chosen by the critics. The square is about 3' by 3' in dimensions and the range of height is usually from 8-30 inches according to the dog's height. The dog has to jump on the elevated table and pause for some time duration in a down or sitting manner.
A series of poles that are 3 feet tall and about 8 to 12 in number form a straight line when placed 21-24 inches apart. The dog has to sidestep the poles starting from the first to the last in a straight line in order to get to the destination. The poles should have appropriate spacing for your little fellow to run around.
Check Out:
Dog Agility Training Benefits
You may be wondering about the advantages of agility training at home. To know the important benefits of this training activity, keep scrolling down!
Agility training is not a fun form of exercise for your dog only, but for you as well. This fun-filled activity keeps you both physically fit. Your dog will definitely love doing agility sports and will become an exercise routine for staying healthy and active. Dogs love moving through tunnels and enjoy walking in the backyard. This fun agility training will also benefit the trainer in terms of health and fitness as the handler runs along with his dog during the sport.
Want to make your dog more mentally alert; agility training will help you achieve this goal. Physical exercise enhances your dog's mental stimulation. This helps a dog to pass any sort of obstacle with ease at one attempt. An alert brain makes your dog find out the best way to navigate through the hurdles.
Builds up confidence and trust
Trust and confidence are very important when it comes to dog agility training. It is the best source of a confidence boost for your dogs. In the start, the little fellow may not be confident enough to jump over the hurdles, but once the confidence and comfort level is achieved, your dog will jump bravely. It also enhances the trust between the trainer and the dog; your canine will follow your commands and instructions while crossing the agility barriers. This also strengthens the communication bond between a dog and its handler.
Behaviour development and socialising opportunity
Agility training makes your pooch very well-behaved and listens to the verbal commands of his owner. This improves the overall behaviour of your dog. Agility competitions can provide a platform for you and your dog to meet new trainers and pooches. A dog performs well when there is a competition, as among puppies there is a strong desire to imitate other dogs' behavioural patterns. It can, therefore, be helpful to pair dogs during the training session.
Dog Agility training tips
Before you start off with agility training, there are a few things to do. Make sure to entertain your pet while training him for the agility test. Your dog might feel irritating and challenging at first so you need to learn the basics.
Choose the verbal orders carefully
If you want your dog to communicate better verbally and respond to your hand signals accurately, then start with short and direct commands that are easy for your dog to understand. When some word is successful and your dog responds to it well, try to use it more consistently. Introduce a new command when your dog has mastered the previous one. If possible, keep up with the syllable words. Each command should have a different word or sentence.
Plan your dog's agility training wisely. Better planning leads to a successful agility training of a dog. It is advisable to keep the training session short as your dog may start to lose interest. You wouldn't want to make your dog exhausted with long training sessions. Once your dog is used to the training, then you may increase the agility training time. Start off with one obstacle and introduce 2 or more hurdles in the path later.
Don't rush; give your dog time to learn! The pooch may be skilled at one command in less time whereas takes more duration to learn another. Being a dog trainer, you must be very patient while training the dog for an agility contest. The dog won't become skilled at all the obstacles overnight. Convey your verbal directions and hand movements to the pet patiently.
Appraise and reward your dog
The main focus of the training session should be fun. Be sure that agility training is not too tiring and frustrated for your dog. A training session should be enjoyable that must strengthen the bond between the two. Praise the canine on every achievement and boost their confidence level even if he learns to cross a small obstacle. Motivate your pooch to perform the task better by rewarding him with a prize such as food. This will encourage them to do better next time.
There are agility training classes for all beginners who want to learn more about the training session. It's always better to improve your skills by learning new ideas and techniques. The training class is a social platform that will provide you with authentic advice from professional trainers and experts. Learn together with other beginner trainers and get to know about problems that you will face during dog agility training. Get to know about the right age of canine (12-18 months) to start agility training with fun teaching techniques.
There are some dogs that struggle with the agility sport due to health issues, weight, size, physical strength and mood. The breed Great Dane has trouble performing agility because of its large size. Similarly, the breed Brachycephalic is not suitable for agility competitions as they have flat faces and short noses which affect breathing. Older and overweight dogs shouldn't be used for agility training.
On the other hand, some dog breeds perform better than others when it comes to agility sports. These include poodles, Collies and Jack Russells. A working dog also performs well at the obstacle challenge.
What to look for in a dog agility training equipment
Before you buy the right agility training equipment for your dog, keep in mind the following things:
The agility training equipment should be lightweight and portable enough to be carried anywhere and easy to pack. Make sure the equipment is made from a lightweight material that is resistant to UV rays, scratching, wear, and tear. The material should be allergic-free and smooth to touch on the dog's skin. It shouldn't hurt your pooch a bit. Many agility tunnels are constructed from polymer fabrics like vinyl, nylon and Dacron. A PVC tunnel is a lot heavier and less portable but requires no additional support to weigh them to the ground.
Size is the most important factor to consider. Select the product that fits your dog's height and width. You will see different sizes and colours of agility tunnels in the market; some are for small-sized dogs and large tunnels to accommodate big dogs. Measure your pooch with tape before buying the right size tunnel. A petite dog will fit best in the smaller tunnels, so choose sensibly the accurate tunnel size to achieve the maximum benefits.
Decision-making also involves the price of agility equipment. There are tons of agility tunnels with different price ranges. Some training equipment carries a very heavy price tag. Look for the affordable yet durable obstacle. There are agility kits that include all the equipment necessary for training. If you are a very determined trainer, then go for the entire agility set instead of buying one obstacle at a time.
Who doesn't like something extra? The same is the case with dogs. Go for the gears that come with additional features. Many tunnels come with a portable carrying bag for easy transport. Others come with dog toys so your little fellow enjoys his agility training session. Equipment having noise-making materials are the best as the sound encourages the pooch to move and jump through it.
Check out this short video that will show you what you can achieve, even as a beginner;
Conclusion
Dog agility is a wonderful sport that has gained a great success all across the world in previous years. It benefits both the dog and handler. Build a stronger bond with your lovely little fellow and make him more obedient to your hand commands and verbal actions. Agility is an enjoyable sport that you can even practice at home. A great source of exercise for you and the pooch to stay fit and healthy!
You are surely missing out if you still haven't attempted the agility sport with your dog. What are you waiting for?  Choose the best dog agility training equipment and start from today.
Also Read: