When it comes to training your dog, canny collars can work wonders. It is also recommended by the vets to use a canny collar if your dog is under training. It can reduce stress, is gentle to your dog's body and is easy to wear. If you face problems while you are on a walk with your dog and are unable to control your dog, this will help you.
Hopefully, this page will provide you with plenty of information to help support your decision when trying to get your dog to stop pulling. We will also provide Canny Collar reviews, price and product information that highlights just how great this product is.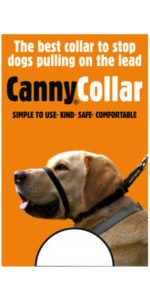 If you haven't heard of the Canny Collar, please read on to see our Canny Collar Reviews and Product information, but first some background information.
When a Scotsman named Brian Smith invented his unique dog training collar, his wife was so impressed after seeing it work on a German Shepherd that she said it was 'uncanny' how quickly the dog had been brought under control. And so the Canny Collar was named.
Check out the available Canny Collars in the table below – Not sure on size then click here to view the sizing guide.
What does the word 'Canny' mean?
If you are interested in further definitions of the word 'canny', then here are some other sources that you can consult:
Why choose a Canny Collar?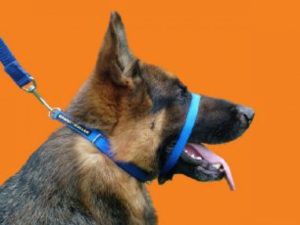 There are many reasons and amazing facts about this product. Here are some key facts that are supplied;
The Canny Collar is a training aid used by Guide Dogs for the Blind, the Dogs Trust and the RSPCA in the UK.
The Canny Collar was voted 'Best New Product' by the UK pet industry shortly after it was launched in
Because your dog only has one piece of material over his nose, he/she will accept it more quickly.
The Canny Collar is simply a standard collar, generously padded for comfort.
See this short YouTube video from the creator Brian Smith about where the idea came from;
Canny Collar Reviews, Price and Product Information

The best place to purchase the Canny Collar is on Amazon by clicking here. The product is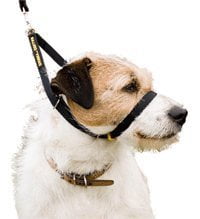 available at other stores but in my experience is best priced online at Amazon.
Amazon is also a great place to read some of the best Canny Collar reviews. All reviews left on Amazon are that of users of the Canny Collar after purchasing the item.
The Canny Collar is a great price and a very popular product on Amazon. Check out some of the other training collars/harnesses we have reviewed here.
Canny Collar Specs and fitting
Top 5 Mistakes When Using a Canny Collar
#1 Measuring your dog's neck incorrectly
Step one to a stress-free walk is to be certain you could have the correct measurement Canny Collar. When measuring your dog's neck, place your measuring tape around your dog's neck to the back, simply behind the back of the ears. This is important when identifying the right dimension Canny Collar for your dog, as well as taking a snug dimension to be certain it does now not come off throughout a walk.
If your dog is borderline and his neck dimension falls right between two sizes of Canny Collar, we customarily advise going for the smaller of the two measurement options. This means there will likely be rather less slip line at the back of your dog's head which tends to make for a better all-round match.
If you have a pup, it's important to choose the scale of Canny Collar your pup desires at this present time rather than pondering on developing a room one day. Each and every Canny Collar does have room for adjustment and there may be overlap between each and every size so this is not normally a challenge anyway.
Measuring your dog's neck as described above is essentially the most failsafe approach to ensure you decide on the correct dimension.
#2 Attaching the lead to the carabiner clips
can be a big no-no! The carabiners integrated with every Canny Collar are designed solely for off lead use and are not to be attached to a dog lead under any instances.
The D-rings on the end of the slip line was designed to take the load of a fully grown adult dog and that is the place your lead should be hooked up. The carabiners are not going to take the strength of a pulling dog and it's extremely unlikely your dog's weight will snap them if used when strolling.
#3 not leaving the yellow guider underneath the muzzle
The ultimate step when fitting your Canny Collar can typically be overlooked. As you pull the slip line from underneath your dog's chin to position it over his nostril, it is important to pull it by way of the yellow plastic guider, to allow this to then take a seat below your dog's chin for the duration of a stroll. This also ensures the slip line is not going to come off your dog's nose.
Many Canny Collar owners whose puppies aren't strolling as well as they should, mostly have the yellow guider positioned proudly on top of the dog's nostril! While this can be a cool fashion statement, it won't help your dog stroll as good as he should on the Canny Collar.
#4 Letting out an excessive amount of lead when running
Whilst the Canny Collar is designed to enable your dog to stroll well on a free lead, an excessive amount of lead may permit the slip line to return off your dog's nose even as strolling. There is a just-right rationalization here to find out how to restrict this.
One bit of advice would be to apply stress on the Canny Collar at the start of the stroll, then loosen it just enough in order that your dog is free to open his mouth and the lead clip is resting both simply above or on the prime of his shoulder blades.
This way, the Canny Collar is unfastened enough around the muzzle so your dog can walk with ease until he strays from his position at your side (at which point you could quickly and effectively right him whilst still retaining a free lead) but not enough that the slip line moves toward the top of your dog's muzzle and falls off.
As soon as in this position, begin your stroll and relax your arm, allowing the Canny Collar to do any corrective work and which means that you may reward your dog vocally when he's walking by your side.
Letting out too much lead defeats the object of the Canny Collar which is to stop your dog from pulling out in front of you and to have him stroll properly with your aid. As a result, we don't recommend that the Canny Collar be used with a Flexi or extendable lead.
#5 no longer releasing the stress after applying
When your dog is pulling on the lead, your first reaction is to apply pressure in the hope that this may occasionally stop him from pulling. When utilising any style of headcollar, the temptation is to do exactly the same.
But trying to manipulate your dog in this manner makes the Canny Collar no more powerful than a usual collar and lead. The Canny Collar works utilizing a 'strain and free up' procedure, coaching your dog to walk on an unfastened lead. It's critical that at some point in the course of the stroll, your dog realises that the pressure will come off as a dog will only ever walk well without any stress utilized to either his neck or face. And of course, the walk is extra fulfilling for you all.
With a bit of luck, armed with this knowledge you're going to be in a position to use it as meant and revel in walking your dog.
Canny Collar Reviews
The Canny Collar has been around for a long time and the original idea was tested on a horse (true story). Once the idea was tried and tested, the Canny Collar was then created for dogs. The reviews on Amazon speak for themselves on just how great this product is.
Dogs quickly learn to stop pulling and save you from having tiring walks, being pulled, dragged or even chasing your dog.
Canny Collars come in 8 sizes ranging from 1 to colossus (for larger dogs i.e. St. Bernard). The Canny Collar is also very competitive on the market, especially against the Halti and the Ancol.
Head on over the Amazon where you can view the amazing Canny Collar reviews or even purchase the product.
Summary
The Canny Collar reviews really highlight just how great this product is but, in summary, our opinion is that this and the Halti are leading the way in dog training harnesses/collars. The Canny Collar is great value for money and Amazon has all sizes available and is also the best value for money than other stores.
Save
Save
Save
Save
Save
Save
Save
Save
Save