Puppies love to play with toys. It is their best time pass. Here you have the 6 best quality treat dispensing toys to make your dogs happy and refreshed. They are made with pet-safe materials. The toys are filled with delicious treats for them that release chews on a timely basis. To know the best featured dispensing toys follow this article.
Want to keep your dog occupied when home alone? What about on a rainy day when your puppy wants to exercise? Or how about when you are trying to challenge your dog's brain a little bit…
Then look no further than these treat dispensing dog toys.
These dispensers can keep your pup occupied for hours. Fighting their a way to get to that delicious treat inside, leaving you to get on with your day to day activities.
Food will always motivate and drive their amusement from being a small puppy. That is why we will share information on the best treat dispensing dog toys available on the market.
Also, please note that you can buy treat dispensing dog toys, but pet cameras also provide treats. These are a great way of rewarding your puppy when you are not at home.
Treat Dispensing Dog Toys – Top

6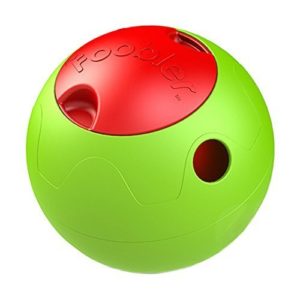 Foobler is the world's first electronic timed treat dispensing dog toy. Helping to combat lousy behaviour and keeping your dog stimulated and engaged throughout the day. It features six treat compartments, which you can fill with dry food, treats or kibble, effectively like having six puzzle toys in one! The Foobler can be set to dispense one of its treat compartments at 15, 30, 60 or 90-minute intervals. Providing up to eight hours of entertainment.
Foobler will help keep your dog active and mentally engaged throughout the day. A bell will chime to alert your dog that it is time to play at the pre-set time, and a treat compartment will be released. Spreading your pet's meals throughout the day, the Foobler works perfectly as a slow feeder and helps combat bloat and over-eating, leading to a physically healthier lifestyle.
Foobler releases treat at every timed interval into the outer casing. Like any standard treat dispenser, the dog still needs to play with the Foobler. The ball is weighted toward the bottom to help encourage play and engagement. If treats have not been dispensed into the outer casing for any reason, it is recommended to check the unit is powered on by looking at the light on the power pod. It should be green to indicate that Foobler has been activated.
***** Click Here to Read our full Product Review of the FOOBLER *****
Kong is the best 'original' treat toy. This toy is the 'DADDY' of all toys. Loved by all, this dog treat ball dispenser is as good as everyone says and a whole lot more. These toys are made from extra-tough rubber to help withstand any amount of chewing and biting. They also come in various sizes, depending on your dog breed.
What makes Kong even better? You can put your dogs' day food and treats in.
How to get the best out of your KONG: MIX: ½ wet food, ½ dry food, and stuff it inside. Your dog will spend hours upon hours licking every area. If your dog likes excavating, stuff your Kong above, then Freeze overnight.
As the toy dispenses food at the dog's leisure, it's best to keep the dog in an enclosed space. This will prevent food from being stuck in your carpets and making a right mess.
As with our other pages, Trixie makes a wide range of products from Dog Training Leads, Dog Training Harnesses, Hi-Vis Jackets, and Dog Toys.
This top-quality dog treat ball dispenser is made from natural rubber, so it is safe and non-toxic for your dog to play with. A series of internal flaps help to restrict the movement of treats inside the toy, so your dog has to work harder to get them out. Available in a range of bright colours, the soft natural rubber means that this ball can be used indoors without causing excessive noise or marking of furniture.
Trixie continue to make amazing products and this is no exception.
Ancol, just like Trixie, is a well-established company for many pet accessories. Producing high quality, low-cost products such as the Ancol Lead, Ancol Harness, and also the dog treat ball dispenser
This medium / large sized treat ball will keep your dog entertained as it rolls around, dispensing treats when pushed by your pet. The ball has an adjustable opening so that you can control the flow of goodies and is ideal for medium to large-sized breeds.
Note: While this toy is a great addition, it does come with some pains. The opening can be adjusted to increase the flow of treats, but the size of the hole can be pretty frustrating for the dog. We recommend using smaller dog training treats to ensure they are released from the ball.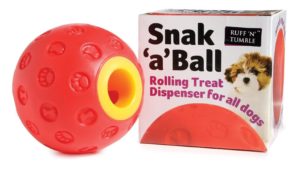 Snak 'a'Ball is more suited for the giant dog. The hole for the treats is quite large, and smaller dogs can sometimes put their jaw in.
Questions are always asked whether you should get a soft or a hard dog treat ball dispenser  Softballs like the Trixie are better for chewing, whereas the Snak 'a' Ball is excellent for your dog to push around. Also, one significant advantage is the noise the treats make inside the harder ball can get your pup more excited and want to play for longer (like my dog Ralph who loves noise).
The Snak 'a' Ball is great fun for all dogs but, as advised, more suited for larger dogs. Please note that this can scratch if your dog regularly pushes the ball around if you have laminate.
From the creators of The Dog's Balls, The Dog's Snacker Ball is a fun rubber toy with an inside compartment where you can stuff it full of your dog's treats and snacks.
This can also be used as a play/fetch toy for your dog's leisure. Your dog can also be left chewing this for hours with or without treats inside.

This smaller toy is excellent for smaller dogs and will give them hours of fun, but the treats take a lot longer to come out of the toy and can leave your dog frustrated.
This product is value for money, but we recommend the FOOBLER or a Kong instead of this ball any day.
What Makes Great Treat Dispensing Dog Toys?
The best toys are durable, simple to use, and easy to clean. All the above treat dispensing dog toys are fantastic products that will entertain your dog for hours.
A great point to note; if your dog generally protects its food/toys, it's usually best to try and train your dog to stop this before using a treat dispenser toy  Treat dispensing dog toys can also increase animosity between dogs and cause conflict, so if you have more than one dog, you may want to keep them separate.
Keeping your dog entertained will always help prevent boredom  Boredom in dogs can cause anxiety and continuous barking  Treat dispensing dog toys not only stimulate the mind but very quickly cure boredom  There are also cameras you can get where you can dispense a treat for good behaviour whilst you're not even at home  Check out the FURBO Treat Camera  Such a great camera and very good for rewarding good behaviour when you are not at home.
Summary
Having reviewed these products ourselves, we have found the FOOBLER to be the most exciting for your dog by far. Ask any dog owner who wants to share their thoughts and opinions below. Any feedback is also welcome. Have you tried any treat dispensing dog toys that aren't listed above and would like to have this added? If so, drop us a line. We'd love to hear from you.
Save
Save
Save
Save
Save
Save
Save
Save
Save
Save
Save
Save
Save
Save
Save
Save
Save