Looking for the best silent dog clippers product to make grooming your pet easy?
Do you have a dog breed with fur constantly growing to the point where it gets too long, and you feel only a professional silent dog clipper can help?
If you want to avoid the high price of a professional dog groomer but still create a high-quality look with your own set of clippers?
No need to stress out, as we will help you find the best silent dog clippers to forego all those professional groomer fees and have a happy and trim pup. We are aware that there are many options on the market for pet grooming kits: from corded to cordless silent dog clippers; single-speed silent dog clippers to two speed and steel blades to ceramic blades.
We have reviewed 5 of the best silent dog clippers in the market to help you find the best dog grooming kit to suit your needs.
The Best Silent Dog Clippers For Grooming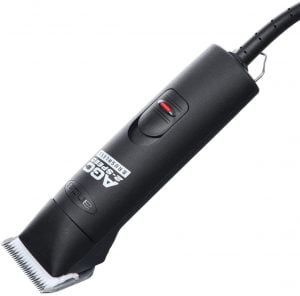 Our top choice for Best Silent Dog Clippers is the Andis Professional.
Andis has provided a heavy-duty dog clipper that is claimed to be break-resistant in the super-strong black case. These silent dog clippers are built to last.
Suppose your dog suffers from anxiety when clipping, then these are definitely for you. These are the quietest dog clippers we have found. Although they are super quiet, do not expect matted hair to be simple to cut. However, they do offer a fantastic clipping experience for all dogs.
Andis has also added a fantastic heat reduction feature to ensure the clippers do not overheat no matter how long you use them.
Not cordless, but they do the job. The cord is a 14-inch heavy-duty chord, which can get in the way, but does not take anything away from the quality of this product. These clippers are up there with the most silent dog clippers around.
Check out other Andis Dog Clippers here.
Pros
Break Resistant
Quietest on the market
Heat Reduction
Excellent for small delicate areas
Cons
Struggle with Matted Hair
Heavy Duty Chord can get in the way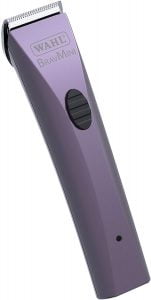 Next on our best silent dog clippers is the Wahl BravMini+ Pet Trimmer.
Wahl has produced a very compact dog clipper. It is also built to help support any dog groomer by creating plenty of power with as little noise and vibration possible.
The strokes per minute for the Wahl clipper is an excellent 5350 and only weighs a mere 4.5oz, much less than the Oster.
Most users of the Wahl BravMini+ have found that they can use the clipper on larger areas of the dog and the smaller hard-to-reach areas. Due to how quiet the clippers are, they have found the dog to have little to no fear of these clippers.
One major positive is that the Brav Mini+ is cordless, and in just 2 hours, they are charged and will provide up to 100 minutes of cordless grooming time. Like any cordless product, you do have the option to use plugged in also, providing just a bit more power.
Do not worry about this overheating. Wahl's unique design has ensured that they remain much cooler than most silent dog clippers for a much more extended period.
Pros
100 Mins cordless use
Just 2 hours to charge
Silent and minimal vibrations
Great for hard to reach areas
Low chance of overheating
Lightweight
Cons
Difficult cutting larger breeds
Reports of clippers not working correctly after one use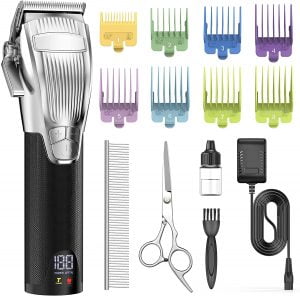 Features of the OneIsAll Silent Dog Clippers bring people to this product repeatedly. Dog Owners and groomers around the world are not too disappointed with the products and services by OneIsAll.
With a quick 3 hour charge, the clippers have an impressive 5 hours of use. This product is an absolute must-have for professional groomers looking for a great cordless silent dog clipper.
The powerful motor helps cut your dog's hair quickly, but it will effectively cut thick hair, too, without any trouble.
Innovative technology in this clipper means that not only will your clippers charge in just 3 hours, but the charger will automatically turn off, which will save the batteries life. You also have a nice little feature that tells you how much energy is left in the battery, knowing when you need to charge.
Although this silent dog clipper is powerful and will cut through thick hair, it is always recommended to trim a dog's hair with scissors if they have long hair. This will ensure the clippers dong jam and pull and cause discomfort to your dog.
Pros
Heavy Duty
5 Hour Battery Life
Just 3 hours to fully charge
Battery Life Notification
Cordless and Silent
Cons
Some users have struggled to cut medium length hair

One of the best silent dog clippers has to be the Oster Turbo A5. This professional silent dog clipper is a beautiful looking product with a choice of two speeds. Three thousand strokes per minute is a much quieter speed and excellent for the simplest of dog hair. Four thousand strokes per minute to help you get through tough, matted dog hair. You will quickly and smoothly get through the hair without any fuss by switching to a much faster speed.
The Oster clipper is a heavy-duty clipper and is not disguised as anything else. This clipper's solid structure and casing help any dog groomer know that they have produced for life.
You can get several attachments for this clipper, and it can easily be replaced if required.
Although this is not a cordless dog clipper, the power it produces needs it to be plugged in.
Pros
3000 – 4000 strokes per min
Strong Sturdy Design
Many attachments available
Gets through tough hair easily
Cons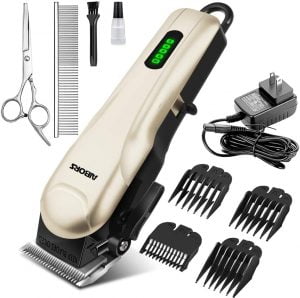 The Aibors silent dog clippers feature a 12V high power motor that is very quiet. This heavy-duty dog clipper is designed to cut through thick coats effortlessly. The sharp titanium-ceramic blade features 26 teeth and uses high-tech Nanotechnology to get the job done safely and efficiently. The blade doesn't pull or snag during use.
The Aibors silent dog clippers are very quiet for their price range. It takes around 60dB of motor noise, slightly louder than office building noise. It's not the most silent dog clipper on our list, but this is a great entry-level dog clipper given its low price. The 4 level shifts and four-guard combs on this grooming machine make it convenient for new users.
This grooming kit isn't wireless, which is great because you can take your time and not have to worry about the battery dying. If you're using this quiet pet clipper for thick hair, a wired option is better because a battery dies quicker with thicker hair and is generally weaker. This is a great cost-effective, quiet dog grooming kit if you want an at-home setup.
Pros
12V high-speed power motor
26 teeth titanium ceramic blade
High tech Nanotechnology
New user friendly
60db noise level
Spare blade
Cons
Not as low noise as some of the other dog clippers
Features To Look For In Silent Dog Clippers
Here are some unique features silent dog clippers can have and what they could mean to you if you purchase.
Motor speed and power
Perhaps an essential feature in a pair of clippers for most but not all types of dog coats. Clippers' motor speed and power dictate how fast it can cut and how likely it will power through thicker and perhaps matted coats. This is measured in rotations per minute.
Most silent dog clippers will not list the exact rotations per minute (RPM) it is capable of, which is very annoying for us as we can't directly compare one to another, so you'll have to get the information indirectly from third party reviews and what it says on the box. Most UK dog clippers brands will let you know if the clipper can handle larger dogs and more challenging coats, so if the RPM isn't specified, go with that information and check the reviews for that pair of silent dog clippers.
However, if the silent dog clippers do list the RPM, then know that 3,000 and above is powerful enough for 90% of the dog coats out there, and anything above that is for the heavy-duty professional clippers who need to be prepared for furs in the worst conditions possible such as grooming professionals and adoption centres.
Low noise
It is almost essential for dog grooming clippers to produce low noise. Even the most confident dogs can get scared quickly when presented with a pet grooming kit that is vibrating and coming near them. It is one of the scariest noises alongside thunder and the vacuum cleaner. It can worsen when contact between the clipper blades and the pet hair and skin. Professional grooming experts will only have a quiet clipper in the shop, and you should have the same.
Looking for a pet grooming kit that produces less than 60 decibels would count as 'low noise' – this can be achieved easier with cordless silent dog clippers.
Cordless vs corded clippers
The vast majority of modern silent dog clippers are corded and cordless, but some are just corded. Having a cordless dog clipper has clear advantages by being highly portable and giving the owner the ability to clip their dog's hair at home or anywhere. However, it does come at the cost of power, as the lithium-ion battery inside can not compare with the power and rotations per minute of a motor-powered AC.
Suppose you're a professional groomer, owner of several dogs that you want to groom in one session, a groomer in a rescue centre or an owner of a dog with particularly thick or problematic coats. In that case, we thoroughly recommend going for a more expensive corded pet clipper as you will need the constant power it provides.
If you've got one dog with a regular coat, then cordless clippers will be more than enough for you, and you'll save a fortune. It will easily clip the whole dog's coat on a single charge, and the power will be more than enough. Even if money is no object, there is simply no reason to throw money at a more expensive corded version just for its sake.
Type of blades
Don't bother with any dog clippers that don't use titanium/ceramic detachable blades, as these dog clippers will not have the toughness to avoid the blades jamming in the dog's coat, and these blades are likely to do so dully quickly. Of course, the replacement of dog clipper blades is usually relatively cheap, but it's still a hassle nonetheless because if you don't have any spare blades, you can't do the job yet.
Conclusion
Our reviews guide showcases the top 5 silent dog clippers, listing their pros and cons and giving you general information about their functionality. Limiting the list to 5 clippers hopefully reduces the stress of looking for a pair all on your own.
Our number-one pick is the Andis Professional Animal Clipper, which is powerful and can cut through all types of coats while providing a smooth finish. The Oster Professional Turbo A5 2-Speed is the second choice on the list.
As you narrow your search even further, keep in mind the benefits and the drawbacks of each to find the perfect pair of clippers within your budget yet are of good quality, so your investment is worthwhile.
We genuinely hope that this article will help you choose the best silent dog clippers for you and your dog.
Comment below to let us know some other silent dog clippers you have used before, which we may have missed mentioning in the article!