Does not your dog want to take bath? Bathing your dog is similar to a tricky race. You would be surprised by seeing that your puppy loves swimming in and playing with water. Get them a paddling pool at home, where they can have some fun time with water in summer. Once your puppy starts enjoying the water, the bathing issue would be vanished immediately.
In most countries, summer temperatures increase year on year and dogs, like humans, are put at risk of dehydration and overheating. Keeping yourself and your dog hydrated is the most important rule in these soaring temperatures. One of the most fun, exciting and best ways to keep yourself and your dog hydrated is by using one of the best paddling pools for dogs and children as reviewed below. Keeping your doggie entertained outside is perfect, whether it be with a paddling pool or an Outdoor Dog Toy.
Owning the best paddling pools for dogs is the best, quickest and most effective way to keep your dog refreshed and hydrated throughout any hot period. Placement of your paddling pool is also a factor that will help. By putting your paddling pool for dogs in the shade, your dog will feel even more excited to use it as the pool will be even cooler.
You can, however, purchase a gazebo or an umbrella that can act as a shade. Using these to cover the pool or the dog's bed will prevent your doggie friend from overheating.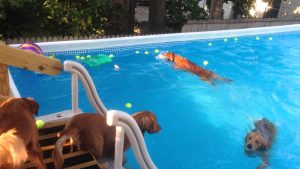 The best paddling pools for dogs come in all shapes and sizes. There are other alternatives if you don't have the space for a pool, or it simply is not an option. Check out all the best ways to cool your dog down before trying something you think might work, as some are dangerous. An example is using Ice Packs. This is a big NO! It is far too dangerous to reduce your dog's body temperature this quickly. Check out some quick and easy alternatives to the best paddling pools for dogs;
Dog Cooling Mats – These are a great way of keeping your doggie out of the sun and into a cool sleeping position. Dog Cooling mats will cool your doggies body temperature down when your doggie lies down. Most last for a few hours before requiring a recharge. All our reviewed dog cooling mats auto-recharge, so no electricity is required.
Cold / Ice Water – Some dog owners believe that their dogs should not drink ice cold water due to problems this can cause. According to vets, giving your dog ice water is safe in small doses. Do not let them down a full bowl but drinking small amounts will not harm at all.
Hose-Pipe – Hose pipes are great fun if you have one. Ralph loves the hose as he chases the water around and then starts to drink the water. You can also have a quick water fight with the kids and the dog. Test the hose on your dog first to see the reaction, some dogs hate them, and others love them. Ralph is a lover.
Dog Grooming Baths – These are another alternative but can take up just as much room as any of the best paddling pools for dogs. Price-wise, a dog grooming bath can be anywhere between £1,000 plus down to £100 plus and can be used in or outdoors.
There are many other alternatives to have a nice hot summer (unlike the UK), like a misting cooling system completely safe for pets. Also, travelling in the car can get quite warm, so a fan or additional ventilation should be installed as a car journey can be quite sick if it gets too warm.
Below are our best paddling pools for dogs that we believe will suit everybody. Suppose you believe none of these suits you or your dog, then why not look into the best plastic kiddie pools on Amazon. They can also support your dog, but not all of them. Check them out right here to see if they are Pet Friendly.
Top 5 Best Paddling Pools For Dogs
Top on our list of best paddling pools for dogs is the Frontpet Foldable Dog Pool. Very different from the One Dog One Bone Pool has some great features.
Suitable for smaller / medium-sized dogs, the Frontpet Dog Pool helps entertain and keep your dog pleasured during those hot summer days. Made to be a long-lasting pool, this foldable dog pool is not like other similar dog pools. Most are made like standard kiddie pools, but this is different. This pool is made to sustain your dog's claws and excitement. This is helped by using tear and leak-proof materials. A great feature, especially if your dog likes to keep getting in and out. You won't need to worry about their claws ripping through the material.
The pool size is a mere 12 inches deep and 50 inches in diameter, so your dog should be able to lie down in the water if they feel the need to. They should also be able to stand comfortably.
Once the pool is empty and dried out, you can fold the pool over and put it away. Simple! Alternatively, setting the pool up is as easy as inserting the plug, filling it with water.
When reviewing the best paddling pools for dogs, there was no doubt in our mind that the One Dog One Bone Pool had to be in here.
This pool is great for multiple large dogs or even smaller dogs to have lots of space. It is great! The price is higher than others, but this pool is made to last a very long time. The One Dog One Bone pool is made from a truck bed liner material that is completely chewed and resistant to UV light. This helps make the pool lightweight and built to last for a year.
Other pools are made from a vinyl-like material that starts to deteriorate in as little as 12 months and will either need repairs or replacing. In the long run, these will cost you money and time when paying a little extra will get you peace of mind that your dogs are safe.
The materials stay cool even in the hottest temperatures. This helps prevent paws and hands from getting burnt due to hot plastic. Water also remains cool. Holding a huge 390 litres of water, your dogs can have hours of fun.
Some owners of the One Dog One Bone pool have built this pool into their decking or patio areas making this a semi-permanent fixture to their outside living space.
Next is the Paw Shaped Dog Play Pool by One Dog One Bone. This is another high-quality paddling pool for your dog. Large enough to fit small and medium-size dogs, this pool looks great and is great for summer.
This pool is designed to help keep water and your dog cool in the hot weather as the materials prevent overheating. It holds up to 90 litres of water and is simple to drain when finished.   It is also extremely sturdy and has another great paddling pool from One Dog One Bone.
Although there are no drainage holes, the pool is simple to empty by just tipping the paw or foot. Kids also love this pool as they are sat in a giant dog paw and enjoy spending time with their doggie friends.
For dog owners who travel regularly whether it be camping or overnight stays in a caravan, the Alcott Mariner will be a perfect travel companion. Although inflatable pools are not ideal for dogs as they are not made to last and can get damaged quickly by your dog's paws. However, if you do travel regularly and want to keep your dog hydrated with a pool then this is for you.
Simple to drain and fold away, this pool is 4 feet in diameter and has inflatable rings that help your dog get in and out easily. Complete with a repair kit as the sides can be chewed or clawed, this is probably the best portable paddling pool we could find that would suit your dog.
In the long run, you will be buying many of these the cost can quickly run up.
And Finally, keeping to a simple and effective dog paddling pool, the Dog Collapsible Bath Pool is just that.   Portable, Foldable and simple to set up, the dog paddling pool is nothing special just does what it needs to. Although not the sturdiest, this pool will fill with water, hydrate your dogs and ensure they can still have fun.
Being a collapsible pool, this paddling pool can be taken on any trip with you. It is so simple to set up and put away it will take little time to have ready.
Although it's a little more expensive than you would expect it is still not overly expensive. Comparing it to other pools in its category, this paddling pool is just nice, plain and simple. Check the dimensions before purchasing as depending on your dog size you may need to consider alternative options
Best Paddling Pools for Dogs – Benefits
Owning one of the best paddling pools for dogs can seem like a strange idea to some dog owners. Finding a relaxing spot or a place to cool down when it is hot outside is probably the main reason to get one PLUS you can enjoy the summer as a whole family having a pool at home.
Having one of the best paddling pools for dogs is simply a great idea to help your dog keep cool and also be able to enjoy the heat just as much as you and your family do. If you have kids, they can also enjoy the pool with your dog. Giving your dog an exciting place to play will ensure that they are not overheating, dehydrated and ultimately may lead to them causing mayhem in the house by spilling bowls of water everywhere. Most importantly the pool will give your dog an escape from the heat.
Dogs generally run around and get a bit crazy after bath time, I know Ralph spends a good 20 minutes going mad around the house. Having a pool will help keep your dogs exercise up as they will be running around once they have been in the pool, just like bath time.
Choosing The Best Paddling Pools for Dogs
Overcoming the fear of purchasing one of the best paddling pools for dogs is the first step. Choosing the best is the second hurdle to overcome. There are several to look out for;
Plastic Dog Pools are generally made from a strong, sturdy material that will ensure they are strong enough to last a very long time.
Inflatable pools are great for quick use or short term. They can tear easily or puncture and one tiny hole will lead to a replacement.
Collapsible dog pools will last a little longer than 1 year however the materials are still quite weak and can be damaged easily
Inflatable pools do require inflating and deflating every time you use which can be annoying especially in the baking sun when your dog just wants to get in the pool and you're still blowing it up.   They do however save a lot of space once packed away.
The main differences between the three categories are the size and materials. Each pool is different and supports different size dogs. Some are also made to last a long time and others are just for those quick breaks away to get you through the weekend.
Best Paddling Pools for Dogs – Size and Capacity
Choosing a small or large-sized pool for your dog is simply up to you. How much fun do you want your dog to have?   If you want somewhere for them to rest their paws and get their feet wet, then a small pool is fine. If you want your dog to be an Olympic swimmer then go for a larger pool. Most dog pools, in all seriousness, are designed like kiddie paddling pools giving them enough room to front crawl a small distance or cover their bodies in the water with a little swim.
Owning a dog pool adds another element of fun you can have with your dog. Kids love them, dogs love them, everyone is happy. If you get an inflatable pool then expect to be purchasing several a year. If you are looking for one to last as you know your dog will get a lot of use, head for the more expensive plastic ones and you cannot go wrong.
Summary
As mentioned above, choosing the best paddling pools for dogs depends on what you want your pool for. A long-lasting dog pool can be difficult to store away when not in use but will last a lot longer than an inflatable pool. The One Dog One Bone Pool is a great purchase for design however, the frontpet foldable pool is one of the more popular amongst dog owners. Lightweight and inflatable pools are easy to store away but most may only last one year, two max, so can cost more in the long run.
The reviews and opinions above are that of our own so please, take time to research the doggie pools and see which one your dog loves the most.