As Dog Parents we buy dog toys, only to find them shredded up minutes later. We have handpicked the best indestructible dog toys that your dog can't destroy.
In reality, no toys are 100% indestructible. It only means that these toys are more durable than others. As it is in a dog's nature to chew, they absolutely tear up new toys after just a few days. There are several brands that sell indestructible dog toys which take longer than usual for dogs to destroy thus stimulating their brain and banishing boredom.
There are so many options in the market that it can be hard to know which one to buy, but we are finally able to say that we have compiled a list of the ten best tough dog toys that your dog can't destroy.
10 Best Indestructible Dog Toys For All Breeds
Below we have chosen the best indestructible dog toys for you and not ranked them as we feel these are all great for any dog. There are so many dog toys that we have only chosen the best.
Indestructible Dog Balls
Making toys for indestructible dogs requires some seriously tough materials. Indestructible dog balls are made from tough rubber or sometimes an excellent plastic that your dog cannot chew. Foam balls and tennis balls can be quickly dismantled and torn apart, so a tougher ball is always a better purchase.
Automatic ball throwers use a small ball that requires training to load up the machine. These can be pretty dangerous if used with a larger dog; however, these larger indestructible dog balls do not fit in a ball thrower as they are too large and too heavy.
Although indestructible dog balls are heavier, they will still bounce and be great fetch toys. You can also purchase dog balls that can be stuffed with treats. Some also help with your dog's dental hygiene, and chewing will help with their teeth.
Check out the best indestructible dog ball below:-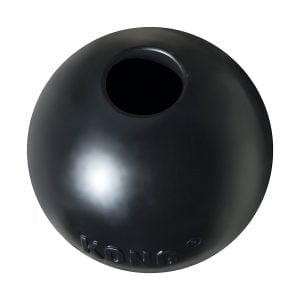 Kong is a world-renowned innovator for dog toys. Not only are these toys made to last, but they are also built and designed for any and every dog owner, no matter on breed or size of the dog.
The Extreme Ball is the toughest and most durable ball on the market. The perfect toy for the dog that loves to fetch and chew.
The hole also allows small treats to be placed inside or even a smidgen of peanut butter.
Kong proves that with every product comes durability, which is no different.
Every owner of Kong Extreme has stated just how excellent this product is.
Indestructible Dog Chew Toys
Dog Chew toys are the first purchase on any dog owner's mind. Having an indestructible chew toy should be a priority.
Ensuring the materials cannot be broken and easily torn, indestructible dog chew toys are an excellent idea for any dog. They come in all shapes and sizes, PLUS some are flavoured, which enhances the chewing experience.
We found hundreds of dog chew toys throughout our search, but finding the best chew toys that cannot break apart was more difficult.
See below our best indestructible dog chew toys that will be great in any home for any dog owner, large or small breed.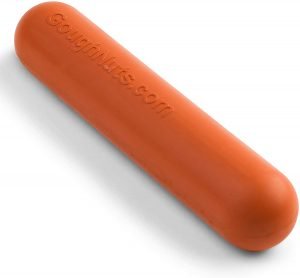 Heavy-Duty, durable and extremely solid. The Goughnuts MAXX is tougher than the original Goughnuts Ring.
Easy to throw and fetch, dogs become quickly attached to this toy and want to take it everywhere with them.
Reviews for this toy are excellent, with owners confirming that the typical day their dogs have toys is no more. This toy lasts weeks without any signs of wreckage.
Although more expensive than a lot of the other indestructible dog chew toys, this toy is worth every single penny.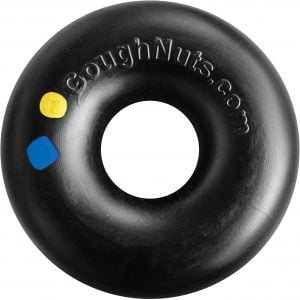 The original GoughNuts toy was designed to address the simple but serious issue of SAFETY.
Goughnuts toys have an exclusive safety feature of their own which is one of a kind. If your dog manages to chew through the toy and see "Red", then this means STOP! Take the toy away. If the surface is broken, but you can still see Black / Green – this is still safe, and your dog can continue to "GoughNuts."
These rings float and are simple to throw so your dog can have hours of fun in the water or out in the fields without worrying about anything.
These are specially designed for extreme chewers and great for large dogs.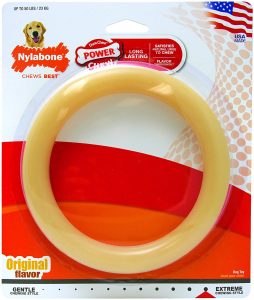 Designed for powerful chewers, the Nylabone is built to last. Many Nylabone products come in all shapes and sizes, and each has there own individual benefits.
With multiple textures for increased tactile and chewing appeal, this bone helps with dogs that chew and increases dental stimulation in dogs.
For the larger dogs, like Labradors, that require regular chewing, this chew bone also helps with chewing stimulation.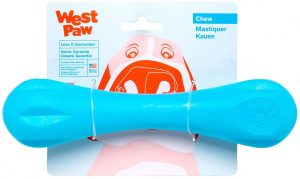 This is one of the best indestructible dog toys we would recommend for your dog!
Durable in more ways than one, with the Hurley, you can Toss it, float it, chew it and more importantly, love it!
Hurley is all the fun of a ball and a bone in one fantastic toy. The particular materials used to make the Hurley makes this enjoyable for munching on for hours and hours.
Created from all recyclable materials, the Hurley comes in many bright colours. If your dog loves to get in the water, don't worry, this toy also floats!
Everything, including the packaging, is made from recyclable items, including the ink used to print.
For peace of mind, the UK Distributor of this product will replace/refund up to one Hurley if your dog is to destroy it. This is how confident they are in their product.
Indestructible Dog Chew Bones
Treating your dog to a Rawhide Alternative is a great way to treat it but can make it more difficult to stop your dog from chewing on things around the house. Using food to teach your dog to stop can cause chewing to increase.
If your dog quick gains weight, this training method can contribute. By providing your dog with an indestructible chew bone, they will chew for hours and hours and not take in 1 single calorie.
Check out these great indestructible dog chew bones that will keep your dog occupied for hours.
They're tough, they keep your dog busy, and they're inexpensive compared to other chew toys. After a couple of hours of chewing, there's some slight damage on the ends, but it's nothing compared to what your dog does to similar toys.
Benebones are manufactured in the USA, made with real bacon flavour, and their curved shape makes it easy for dogs to hold onto. These bones will get some wear and tear after repeated use, but they're much more durable than other bones we've tried.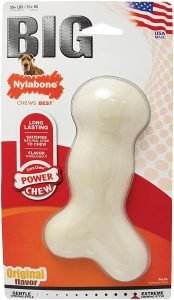 Nylabone has designed unique products in fantastic shapes and sizes for those destructive dogs.
Large or small breeds will love these fantastic chew bones that provide a great sense of relief when needing to chew on something.
Helping to fight boredom, these indestructible dog chew bones are a great way to keep your dog occupied rather than them chewing your furniture/cushions.
Customers who have purchased the Nylabone have said that they have owned this product for six months, and it is still as good as new.

This is another fantastic product from Kong, the Kong Goodie Bone.
Great for training and recommended by vets worldwide, this patented design is impressive if you want to train your dog effectively with treats.
Kong Snacks and Kong Easy Treats work well with this product
The Kong Goodie Bone is perfect for the biggest chewers and will last for a very long time. The use of treats also helps.
Customers of the Kong Goodie Bone have provided this to the toughest of dog chewers, and months down the line, they still have the same bone. This is a fantastic product again by Kong, who does know what our dogs need.
Indestructible Dog Toys That Squeak
Dogs love noise. They also love a toy that squeaks.
Loving the noise so much can make dogs curious about where the squeak comes from. This will then lead to the dog tearing apart the plastic toy to find the source of the squeaker.
Owning a hard squeaky toy for large or small breeds will help reduce the chances of your dog tearing apart the toy.
Check out the best indestructible squeaky dog toy below:-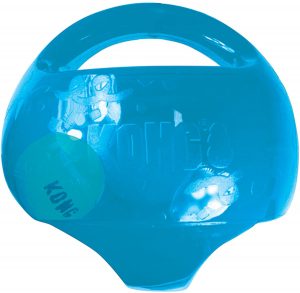 Kong is here again with a two in one indestructible squeaky dog toy. The tennis ball inside plus the loud squeak encourages playtime plus the hands make the toy easy for dogs to pick up and shake.
Great for fetch and an active play session, this ball has it all. Colourful, loud and a whole lot of fun.
Due to the shape of the ball, when you throw, it can bounce quite erratically and make dogs more excited about the game of fetch.
Indestructible Dog Frisbee
Dogs love fetching Balls. It is a fact that they love running for catching a good old fashioned Frisbee.
Frisbees tend to start showing wear and tear after just a few throws.
Buying an excellent quality, indestructible Frisbee is a wise choice. Check out this best indestructible dog Frisbee.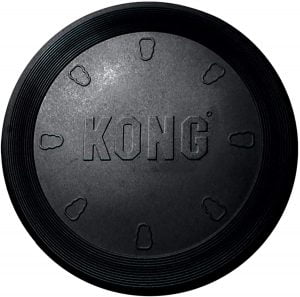 KONG IS BACK AGAIN. The KONG Flyer is the best soft rubber disc on the market.
Made with durable KONG Classic rubber, the Flyer won't hurt a dog's teeth during fun games of fetch and catch.
Most dogs, when playing Frisbee, like to jump and catch the frisbee disc. This being made from safe rubber will allow them to do this with no pain in their mouth.
Another amazing KONG product will keep dogs and humans entertained for a long, long time. Let's hope we have some dry weather as this product is fantastic for all the family.
How To Choose The Best Indestructible Dog Toys?
When you're shopping for tough dog toys, there are a few things you should look for.
Type of Toy
Every dog has a unique personality, so the best toy type will depend on what they like to play with. Many indestructible dog toys are available, including balls, discs, tug toys, and chew toys. If you have a more playful dog, you might consider pulling toys, balls, or discs. For quiet chewers, chew toys are best. Certain toys are noisy or dispense treats, so you should probably choose a different type if you don't want to deal with that.
Size
Big dogs should have big indestructible dog toys, and small dogs should have smaller toys. You always want to ensure that the toy won't pose a choking hazard to your dog, especially if you plan to leave them alone with it.
Durability
For indestructible dog toys, durability is key. They should be made of a material that can hold up to aggressive chewing. You'll find a few different materials used in these toys. Natural rubber, double-knit rope, or tough nylon are all excellent choices, but rubber is considered the strongest.
Safety
If you're looking for a toy that will provide your dog with entertainment when you're away, then safety is essential. You must search for toys that are made from safe, non-toxic material. Certain toys even have FDA approval written on their packages, which is a good indication of quality.
Guarantee
Some indestructible dog toys come with a manufacturer's guarantee. This often includes a promise to replace the toy at no cost if your dog can destroy it. For a pricier toy, this can give you the confidence to try it out with your dog.
Conclusion
If you made it this far, congratulations! You may now know which one of the above listed tough dog toys is ideal for your dog.
We hope that our list of the best indestructible dog toys have helped you find the best toy for your dog.
Here's a quick recap of our list of the 10 best indestructible dog toys-
So, which one of the indestructible dog toys do you recommend for aggressive chewers?
Now that you're equipped with all the necessary knowledge to choose the best, why not let us know your favourite tough dog toy in the comment section below.
Also, If you liked this article go ahead and share it too!