Dog travel crates can make your dog comfortable as well as can stay away from unknown humans. If you are planning a trip with your dog and want to make them feel comfortable in those public places, you can surely use a crate for them. On the other hand, if you have a furious or disobedient pup, you can use a crate too for them. Read for more information.
When travelling overnight, to another city or just a day out in the park, many people like to take their pets along in Fabric Dog Crates. It's a great idea to take your dog for a holiday or a visit to someplace but you need to take greater control of their needs during such times. Unlike people, dogs don't take to new places very easily. They like a sense of familiarity, and while the owner is the most familiar thing to soothe them, certain other parameters need to be taken care of too.
Finding the Best dog travel crates can be difficult but we have tried to make this much simpler for you below. Please be aware that owning one of the best dog travel crates doesn't mean your dog will take to it straight away, this takes time and patience.
Fabric Dog Crates are a great way of getting your dog out and about safely.  Whether a trip to the vets or just somewhere to stow them away in the car.  Fabric Dog Crates will help you make that special bond with your doggie by being able to take them on the road with you.
To make choosing a dog travel crate easier, please see the table below for the best selling dog travel crates available.
Best Dog Travel Crates – Fabric Dog Crates
Now let's take a look at the best dog travel crates.  Rated on Price, Quality and Customer Feedback, these dog travel crates are head and shoulders above the rest.  Fabric Dog Crates are comfortable, portable and very durable.
WOW!  Just WOW!…. If you are looking for a luxury bed and carrier then the Sleepypod is just that. Used for indoors / travelling the Sleepypod is lined with Ultraplush foam for extreme comfort.  This foam allows your dog to find a comfortable position to sleep in.  Dogs differ with how they wish to sleep, some like the enclosed feel and will love the top closed.  Others love the freedom and will have the top open.
Branded the safest pet carrier on the market today, the Sleepypod also provides extreme comfort when travelling.  Included with the Sleepypod is the specially designed 'Pet Passenger Restraint System' which helps keep your pet securely fastened in any vehicle.  The system is designed to prevent and restrict any sudden movement when a vehicle comes to a sudden stop or is involved in a collision.
Full child safety tests are carried out to help ensure the safety side of the Sleepypod is met.
There are several different colours and sizes available for the Sleepypod.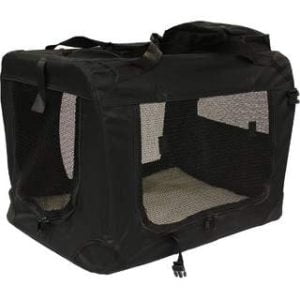 At MyDoggie we review the best quality products for dogs to help owners and make the life of dogs comfortable and convenient. We choose the best products and one of them is a Mool Lightweight Fabric Pet Carrier.
It's an ideal travelling pet carrier that has been specially designed keeping in mind the varying needs of your dog. With these Dog Travel Crates being so lightweight and comfortable you can take them on holidays, camping trips or even use them around the house for everyday use. It's one crate that serves many purposes!
The Mool Lightweight Fabric Pet Carrier provides a comfortable place to rest for your dog. It has a durable powder-coated steel frame and can easily be folded and kept aside when not in use. The fabric that has been used to make this carrier is of high quality and completely water-resistant. Owners can easily clean and wash the carrier to maintain cleanliness and hygiene for their dogs.
Along with being just a resting place, these fabric dog travel crates have a great storage place that can be used to store your dog's favourite treats or toys. Remember, you need to carry things that your dog is familiar with. Toys and treats are the best way to make them feel at home wherever they might be.
Best Features of the Mool Lightweight Fabric Pet Carrier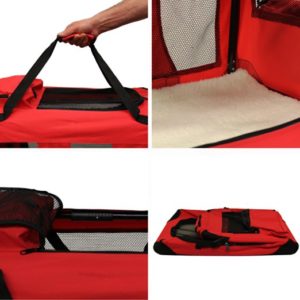 The base of the carrier has a great double-sided advantage. One side is a wonderful and warm fleece and the other is a cooling water-resistant polyester. This base can be separately removed too for cleaning or washing. Depending on the climate or temperature you can out the side that is best suited. Your dog may not be able to express this, so you need to be a step ahead! It comes complete with a carrier crate, a fleece mat and footpad… everything you need in one place.
This collapsible dog carrier does not take too much space whether in use or stored away. If you are planning a vacation with your dog, get them used to it a few weeks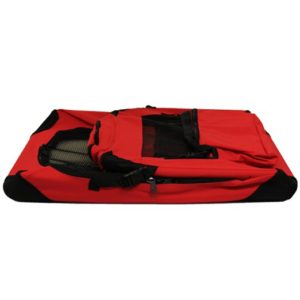 before you actually travel. It is important the dog familiarizes with this new and comfortable resting place well in advance of the travelling days. This just makes the whole process easier for you and your dog. Put it around the house, near yourself so your dog sees it as their own! Fabric Dog Travel  Crates add to our convenience but it is very important to only use the ones that add convenience for the dog too. Just keep it clean and hygienic and you can use it for years to come.
The Orvis lightweight folding dog travel crate easily collapses for storage and travel, making it ideal for your home, destination, and for use in your car.
Constructed with tight-weave heavy-duty mesh around a strong metal frame, this unique crate features top, side, and front zipped entry doors with rugged ventilated mesh windows.
The rounded corners protect auto interiors and your floors, and the crate doesn't rattle when placed in your car. The removable plush, padded Sherpa fleece mat features a water-resistant backing and promises extra comfort for your dog. Not recommended for puppies or dogs that chew. The dog travel crates come with a washable mat and the fabric is also easy to clean with a simple wipe with a wet cloth, this crate can stay looking new for a long time.
Although much dearer than the other crates, the ORVIS is a much more sturdy crate and appeals to the regular travellers amongst us.  This dog travel crate is made to last.  Comes in several sizes.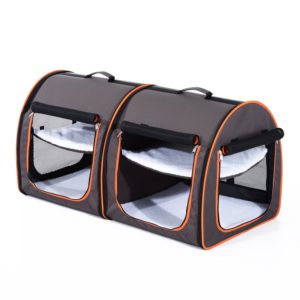 This PawHut pet carrier is a great way for you and your pet to travel in style.  This compact portable system is great when travelling and can easily fold up when not in use.
Although this looks like a double carrier, the best feature is that they simply pull apart creating two individual carriers. The pet carrier has a mesh window allowing for air circulation and easy breathing for your pets. It can be used in the car which can be secured with safety belt holes making the unit and the pets safe while travelling.
Features:
• Lightweight, compact and portable
• 2 pc design, can take 2 of your pets at the same time
• Combined with zippers
• Roll-up zippered doors offer great convenience for entering & exiting
• Mesh design provides better ventilation
• With carrying handle for easy transportation
• Could be fixed in the car with seat belt
• Cushion and hammock are included
Just like the Mool Fabric Dog Travel Crates, the Bunny Business Crate is great for your pets and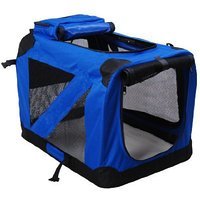 lightweight.  This is a sturdy folding fabric pet carrier and it is ideal for transporting your pet giving them a portable home from home. It is easy to set up and folds flat for easy storage in seconds.
It is Lightweight and has sturdy construction with a Tubular steel frame, strong and light with reinforced corners. The Carrier has ventilated mesh windows on all 4 sides, 2 openings, 1 at the front and 1 on top for easy access and a custom made faux sheepskin bed included. All measurements are approximate and may vary slightly
The Bunny Business Fabric Crate comes in 5 sizes from medium up to XXXL.
Size Guide

Medium : 23.5″w x 16.5″d x 16.5″h / metric = 600mm x 420mm x 420mm

L

arge : 27.5″w x 20.5″d x 20.5″h / metric = 700mm x 520mm x 520mm

X-large : 32″w x 23″d x 23″h / metric = 813mm x 584mm x 584mm

Xx-large : 36″w x 25″d x 25″h / metric = 914mm x 635mm x 635mm

Xxx

-large : 40″w x 27″d x 27″h / metric = 1020mm x 690mm x 690mm
Best Features of the BUNNY BUSINESS Folding Fabric Dog Crate
High quality range of robust soft crates.

Tough waterproof nylon construction machine washable. lightweight and rigid which fold flat in seconds

Soft fleece inside with waterproof nylon back reversible.

This range has top & front zipped doors for access with carrying handles for open and closed positions.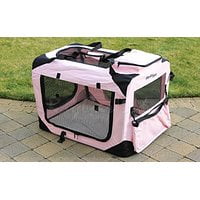 RayGar Fabric Dog Travel Crates are very similar to the BunnyBusiness Crate.  The RayGar folds down flat for easy transportation and storage when not in use. Ideal for using at home, on holidays or on car journeys the RayGar Fabric Dog Create is perfect for your pet to take along with you. Its Lightweight design and steel-framed structure make the RayGar a great design and superb Fabric Dog Travel Crates.
With multiple mesh windows for ventilation, your dog will be able to breathe easily whilst on your journey, no matter how long the drive. With a zip-top pocket and detachable side bag, you can store all your pets essentials!  The Crate is also lined with soft faux fur at the bottom for your pet's comfort. Access to the crate can be through the top zip or Side zip opening.
RayGar Sizing Guide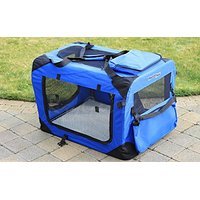 The RayGar Fabric Dog Crate comes in 6 sizes;
Size: Small 49.5 X 34.5 x 35cm.

Size: Medium 60 X 42 X 42cm.

Size: Large 70 X 52 X 52cm.

Size: XL 81.3 X 58.4 X 58.4cm

Size: XXL 91.4 X 63.5 X 63.5cm.

Size: XXXL 102 X 69 X 69cm
Other Features of the RayGar Fabric Dog Crates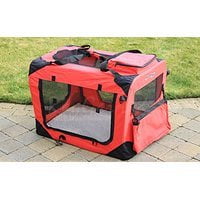 With carry handles for convenient transportation, washable fleece cotton-padded bed included.

Suitable for dogs and cats.

Easy to assemble, can be set up in seconds, folds flat for easy storage.

This is a sturdy fabric pet carrier, steel frame, strong and light.
Other Dog Travel Crates Available

Whilst the above Dog Travel Crates are amazing for car travel and a short walk, there are many other products available for that long journey.  These Dog Travel Carriers are amazing products for the great outdoors.  Used as a simple backpack, your dog can be with you up the highest of mountains and longest of walks.
This revolutionary dog travel carrier has a semi-sphere window design which adds a unique function in addition to its switchable mesh panel.
Small pets, such as small cats and dogs can be easy to keep in these carriers comfortably.
Adjustable padded shoulder straps and carrying handles make our carrier easy to attach to a seat belt. Built-in security leash, mesh panels & ventilation holes, soft washable pad, top & side entries for maximum accessibility, easy storage and travel – comfort, convenience and safety.
Practically designed backpack cases, satchels, and bags are great for keeping your furry friend with you on all your adventures. The semi-sphere window design can stop them from escaping and keep them safe in your care.
It also provides a more interesting and safe space for your pet, which allows your pets to enjoy the sunshine and scenery with you and interact with the outside world.
Dedicated to providing the best quality products for their pets and pet parents, innovative designs, solution-based products, and proprietary collections are a great way to give your pet a window to the world.
PLEASE NOTE:  The product is leather so will have a strong synthetic smell initially.  Please leave to air before putting your dog inside.
Good pet backpack thanks to the AsiaLONG unique technology which has adjustable shoulder straps and buckle design, make it sturdy and convenient; A good choice for cat, dog or other pets.
Breathable sandwich meshes fabric: environmentally friendly & no pungent smell. Mesh windows are ventilated and visible, making your pet breathe freely and relax. Mesh side pockets help store leash, whistle, water, snacks, treats and other necessities.
Contraction rope design, it is could be 3 cm in minimum and 15 cm in maximum according to the pet's head size.
Adjustable padded straps help to reduce the burden. Extendable strap with buckle keeps the backpack stable. Interior rope with buckle prevents your pet from jumping out or hurting itself.
Carrying your pet safe, comfortable and easy when you're hiking,travelling or outgoing.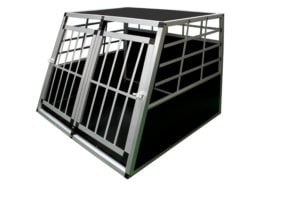 This Aluminium travel crate is AMAZING.  Strong, Sturdy and will fit ANY car.  With a sloping front to keep the cage away from the rear window, this cage just has it all.
With 2 doors to open, you can easily put your dog in and take your dog out of the cage with very little effort.
This cage truly is amazing value for money, especially if you want a cage that is going to last.
PRODUCT FEATURES:
* Elegant appearance manufactured from unique shaped tube aluminium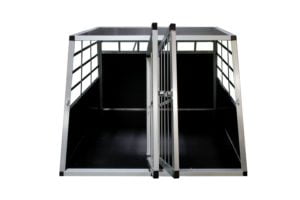 * Easy to clean
* With locks
* Solid build and low weight
* All round lattice struts for ventilation
* Durable but soft plastic corners for safety
* Easily set up
* Shape – Right Trapezoid
* Inclination angle – Angle front 65°, angle rear 90°
PRODUCT SPECIFICATION
* Small – 54cms(W) x 69(D) x 50(H) – single door – 7.5kgs
* Large – 65cms(W) x 91(D) x 70(H) – single door – 12kgs
* Large Double – 104cms(W) x 91(D) x 70(H) – double door – 19kgs
Product Description
Stefanplast transport container gulliver mega 6 comes with a comfortable metal door and feeder. With large crate pockets. With lockable snap closures. Comes with a handle. Airline approved travel box, IATA approved. A set of wheels may be ordered separately. It is perfect for trips to your pet and other journeys.
Transport container gulliver mega 6

With comfort metal door

Measures 92 cm length by 64 cm width by 66 cm height

Ideal for small dogs and cats

Airline approved travel box
This Plastic transport box for dogs is Roomy, very robust and lightbox with a handle and metal door.  The box also includes a water bowl so that you can water your pet whilst carry or travelling.
The transport box can be easily dismantled by the 4 screws that hold it together.  Once it has been dismantled the top half and bottom half easily fit together, neatly, for tidy

To remove the screws you do not require any tools as these are travel proof, meaning you should be able to travel on train or plan with this crate.

Users of this product are amazed at the sturdiness of this product and just how structurally sound it is.  Although the instructions aren't great, it is very simple to put together.
Summary
Your four-legged best friend loves you anyway, why not reciprocate the love with this lovely, bright and brilliant gift that will keep him warm, cool, safe and well-rested.  These dog travel crates are great to take on your travels, ensuring your dog's safety and comfort is kept whether in the car or carrying.  Each of the dog travel crates and pet carriers above is unique, but also the most popular.
We have found that owning dog travel crates not only opens up further opportunities for you and your dog but gives your dog some stability and security when in the car.
Save