There is no denying that a shock collar is only applicable when the dogs have reached the boundaries of positive reinforcement and not before that. Even then, never use them without expertise from a professional trainer. You always need to take care of the negative impacts a dog shock collar can have on your dog once the training is over.
Dog shock collars are a quick and effective way to train your dog from misbehaving. However, delivering a tiny amount of electric shock into your dog's body makes it one of the most controversial. Being a more experienced dog owner and fully committed to training your dog makes a dog shock collar valuable. But, if you do not know the full implications of what negative impacts a dog shock collar can have on your dog, you should use a dog shock collar as a last resort.
Having thoroughly researched dog training equipment, including vibrating dog collars, automatic dog feeders, Anti-bark devices, Handheld Dog Whistles and dog clickers, dog shock collars have always been requiring much more detailed investigation due to the nature of these devices.
Firstly, we would like to start with our Top 5 best dog shock collars
Top 5 Effective but Controversial Dog Shock Collars – Reviews and Buyers Guide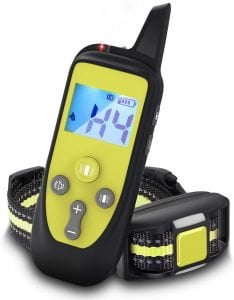 Affordable, adjustable and lightweight, the Petrainer dog shock collar is our first choice for best dog shock collars. When trying your dog to be more obedient and improve its general behaviour, the Petrainer provides fantastic support and control. As well as supporting your dog training, you can also adjust the settings so that the level of a shock given to your dog is reduced depending on how intense your dog training is to be.
If you are using the Petrainer at night, you need not worry as it comes complete with a light mode to help keep your dog visible in poor light conditions. Dog trainers around the world recommend the Petrainer due to the overall look, feel and features, including; Waterproof, lightweight design and the simplicity of the remote control.
Customers who have bought the Petrainer have been delighted with the five-year warranty it comes with. Being lower priced than its main competitors, the Petrainer is an unbelievable training shock collar
Key Features:
100 stimulation modes
tone or beep, vibration, and static modes
Power saving feature
low-light mode
effective up to 330 yards
Recommended for dogs weighing at least 15 pounds
Five years warranty
Pros

Great Value for Money
Wide Transmitter Range
Excellent Range of options
Waterproof

Cons

only a five-year warranty
It May is not fit for dogs with more significant necks – over 22inches.
Next on our list of best dog shock collars is Petronics. This collar is a fantastic bargain for many customers and comes with similar features to other dog shock collars reviewed on this list. Petronics also come with an excellent reputation. Keeping everything simple, the receiver is designed like a standard 2-way radio, albeit smaller.
One fantastic feature of the Petronics dog shock collar is the four training modes and up to 100 fully customizable for supporting your corrective training. Suitable for smaller dogs, Petronics is an excellent kit to help you control your dog from 330 yards away. With the fantastic price and the included light mode, the Petronics is a very competitive dog shock collar.
 Key Features:
Light, tone, vibration, and shock modes
100 levels of stimulation
Effective Range up to 330 yards
Recommended up to 100 pounds
Five-year guarantee
Pros

Easy to Use
Greater control
Elegant Design and Adjustable Collar
Waterproof and Cost-effective

Cons

only a five-year warranty
Reviews for the best dog shock collars led us to the Ipets Waterproof Dog shock Collar. We struggled with positioning on this one as it is a fantastic product; however, the price and missing light feature are the only reasons we have put this in third place. The features are very similar to the Petrainer, and looks are slightly different, but overall it does exactly what you need a dog shock collar to do, just at a higher price.
Three training and intensity levels can be set depending on your dog's ability, which helps increase the level of training your dog needs/requires. The collar is much lighter than the Petrainer, and the missing light feature is a great shame due to the increased price tag the Ipets come with.
Complete a 5-year guarantee which is great if you are less than satisfied with your product or faults occur.
Key Features:
Three training modes with 100 levels of customization
Static shock, beep, and vibration modes
Maximum effective Range: 900 feet
Recommended for dogs weighing 10 to 100 pounds
Five-year warranty: full refund or unit replacement
Pros

Different Buttons for Different Training Stimulus
Customizable settings
Fast Charging
Transmits up to 900 feet

Cons

only a five-year warranty
No Light option
PetTech has designed a dog shock collar that works for novice or expert dog trainers. Although some collars have a more extended range, the PetTech has an excellent 1200 feet / 400-yard range. Most customers are drawn to the lifetime guarantee PetTech comes with compared to the five years other models provide. One stand-out feature of PetTech is the customer service provided at a one-on-one level. This helps even the more novice dog trainers develop into champion trainers. This level of customer service from any company generally increases the price of its products, and that is no different with PetTech.
Keeping up with previous models reviewed, PetTech has 100 different electrical or vibration options and four completely customizable training modes. The static mode available should only be used in extreme circumstances such as emergencies around traffic / busy roads and becoming a danger to itself or others around.
Battery life is also a major plus with the PetTech device as the power supply has automatic power protection. If you are concerned about the price of the product, then please remember that you are getting unbelievable customer service and a lifetime warranty along with a 400-yard signal and 100 different options, including a backlight for improvements to your visibility.
If you want to become a better dog trainer or even have a better-trained dog, this excellent kit with unbelievable support.
Key Features:
Four training modes: light, tone, vibration, and static
Battery saving auto-power protection feature
Maximum effective Range: 1,200 feet
Recommended for dogs weighing 10 to 100 pounds
Lifetime replacement guarantee or full refund
Pros

Great Range than other models reviewed
100 Customizable settings
Fast Charging, longer-lasting battery
one on one Dog training advice with experts

Cons

more expensive
The more expensive dog shock collar available is the SportDog Field Trainer. After reviewing the SportDog and understanding why it is priced so high, we have identified that. The features are all similar to the previously reviewed models other than a 500-yard range, if not the same. Outdoor dogs tend to love diving into puddles and rivers and getting dirty; however, the SportDog is submersible up to 25 feet making it a much more convenient dog shock collar.
SportDog has also ensured that this device can simultaneously control up to 3 dogs other than the standard two dogs. It would be best to buy extra collars, also available from Amazon.
Battery life isn't great on the SportDog.  Although it is rechargeable, the battery's life is only up to 70 hours, whereas most other brands last 20 days. Overall a great purchase but at a high cost. There are other cheaper models available that do the same.
Key Features:
7-level static stimulation with an additional burst or continuous modes
With shock, tone, and vibration stimulation
Fully waterproof up to 25 feet
Battery lasts 50-70 hours after 2-hour Charging
Maximum effective Range: 500 yards
Recommended for dogs weighing at least 8 pounds
Pros

Wide transmission for greater control
Fully Customizable Settings
Submersible in 25m deep water
complete with training DVD

Cons

Battery life is short
Only seven levels of correction
Expensive compared to others
Buying a Dog Shock Collar: Must-Have Features
That isn't kind. Are you buying that? Should you be using that? There must be a better way. These are just some of the comments and questions you may hear when purchasing a dog shock collar. Before spending your money, you must do as a dog owner beforehand. One of the main things to understand is what the dog shock collar is used for and how they work. Once you fully understand the requirements for you and your dog and how to use them effectively, you should start considering spending the money. So, let us try and help you with that decision.
There are hundreds of different models of shock collars available, and it can be pretty easy to get lost in the different variations. One product always stands out from another, and I hope I have provided you with enough research to make a good decision. Some of the key features you need to look out for should you do your research;
Different Modes:  Dog shock collars come with at least 2 or 3 signalling modes, either light, tone, or vibrating. Anyone using a dog shock collar should initially start with a lighter training mode like light or style. This can then be adjusted to a more robust or more lightweight vibration, depending on the level of training you wish to deliver. The higher number of training modes available makes the dog shock collar much more suitable as it gives you more control over your dog's disobedience.
Range Effectiveness:

Ensuring your dog can be controlled wherever you are is an excellent attribute of any dog shock collar. This enables you to continue training your dog off the collar at greater distances. Ideal for training your dog on the recall ability. A local park and field are ideal for these dog shock collars. If you want to go into a larger area to train your dog, you need to look for up to a mile range.

Waterproof Devices:

The best dog shock collars are fully waterproof. As your dog will be out and about regularly whilst you are training, some dogs love getting into rivers. If your collar is not waterproof, then you could end up having to spend more money on purchasing more collars.

Price: 

You can find a wide range of prices for dog shock collars, from very cheap to extremely expensive. There is no actual price that is a reasonable price for a dog shock collar. We have provided the best dog shock collars in terms of use, attributes and also price that we could find, but the Range is still vast.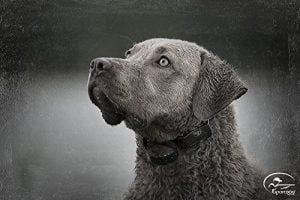 What is a Dog Shock Collar used for?
Over the years, dog experts and training experts have come up against challenges in using dog shock collars. However, people continue to search for and shop for the best dog shock collars.
In the US, shock collars are looked at the same as a regular dog collar, worn around the dog's neck and are used to prevent dogs from barking too much and help behavioural problems in dogs.
People still wonder why you would want to use a dog shock collar when you could train your dog with a lot of patience. Below I will highlight some more uses of a dog shock collar.
Behaviour Improvements and Training
The most significant use of a dog shock collar is to help support your dog's behavioural training and improve your overall dog's behaviour. Generally used when your dog is off the lead where you allow your dog to roam free. The collar can prevent your dog from running into traffic, running away from you or even heading toward another dog. You should always use commands along with the shock of the collar. This helps your dog understand that the command is a training command.
Over time your dog will listen to the command and respond. The shock collar works at the right moment preventing aggressive behaviour and using a Dog Muzzle. The shock can also be controlled by yourself using the remote control that they come with. Some Anti-bark Collars come with a shock system that will work as soon as your dog starts barking. Please bear in mind that the dog shock collar will only stop any misbehaviour in your dog at that moment, but it will not prevent it in the future (initially).
Dog Safety and Prevention
Wireless invisible dog fences can be used to prevent your dog from free-roaming around your property into areas you may not want them to go. Using a dog shock collar alongside a wireless dog fence can help support this training. Blocking off rooms and building additional fences are a thing of the past with a wireless dog fence.
Anti-barking devices are a great way to prevent your dog from barking unnecessarily. We have reviewed the best anti-barking devices here and find that they are an excellent tool for keeping your dog quieter, especially when getting the baby asleep.
How Does a Dog Shock Collar Work?
Dog shock collars do precisely what the name suggests. They send a small shock of electricity into your dog, which will immediately stop them from displaying their current disobedient behaviour. As we have already reviewed above, each dog shock collar has different levels of shock and several different modes. How you have chosen or set for the dog shock collar depends on when the collar comes into effect. For example, if you use an anti-barking device when your dog does bark, the device will quickly shock your dog, stopping them immediately.
Most dog shock collars have a unit attached to the collar and a transmitter remote for you to operate. Should your dog decide to ignore your command and do its own thing, you can use the transmitter and provide your dog with a shock. The shock can help your dog understand what is wrong and correct its behaviour. Warning though, do not overdo it with the shocks.
With all the different modes available on a dog shock collar, you could also set the collar to provide a tone or vibration to your dog. Although some dogs are ignorant of the techniques, this provides a similar training style to your dog and helps them perform. A dog shock collar should be used when all the other modes have failed.
What Types of Shock Collars are Available?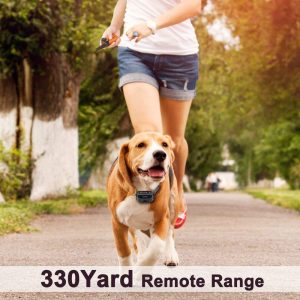 Overall, there are three different types of dog shock collars;
Shock Training collars: These collars are what we are reviewing on this page. Dog shock training collars help support behaviour issues in dogs and support any training. The most significant benefit to a dog shock collar for training is time. Dog training can take a long time with conventional methods such as positive reinforcement and treats.
Even professional dog trainers can struggle with some dog training and find the overall experience challenging. This all depends on the dog's behaviour as well. Conventional training can take weeks, even months, before being partially trained. Day to day dog owners, like myself, don't have enough time in the day to be able to train their dogs correctly. Walking the dog daily for an hour or so sometimes isn't enough.
Adding training on top of this can take away necessary family time. A shock collar will drastically decrease the time needed to train your dog, and it can be completed indoor or outdoor using the Range of up to 500 yards in some cases. This helps for off the lead training with your dog.
Anti Bark Devices; Great devices for controlling unnecessary barking. We have provided an extensive review of the best anti-bark devices. Dogs naturally bark; it's the only way they can communicate. Excessive barking becomes a problem and can lead to problems with the neighbours. Shouting at your dog can become frustrating, and your dog won't listen. Getting up off your seat and seeing what the dog is barking is easier. Anti Bark Devices and Collars are a great way to ensure you can have a much-needed lie in.
Invisible fence collars; These collars are a great way of providing clear restrictions on your garden boundaries to prevent your dog from escaping. Setting your parameters then works with the collar so your doggie cannot run by sending a signal to the collar, whether a shock or a beep. If your dog ignores the beep, they vibrate, and if they disregard it, the collar will shock your dog to stop in its tracks.
These collars are the most expensive as replacing your garden fence with an invisible wall.
Can a Dog Shock Collar Hurt My Dog?
This is the one hundred-million-dollar question. There is no actual evidence that the dog shock collar hurts your dog; however, they are frowned upon. They are inhumane devices due to the shocking nature of the device.
Electrical shocks can eventually lead to injuries in dogs and inflammation of tissues, and this is the biggest concern why people frown upon them being used. Unlike burns from domestic products or fire, an electrical burn cannot be located easily. Also, the burn and damage will be much deeper in the tissue making it sensitive to touch overall, but the damage will have already been done under the skin.
For these reasons, dog shock collars are deemed inhumane and are not recommended unless you are a qualified dog trainer or understand all the impacts. Signalling modes on shock collars are a much-preferred option. Remote control vibrating dog collars are much safer than using the vibration modes in a shock collar.
Summary – Best Dog Shock Collars

Overall a dog shock collar is excellent equipment to help train your dog quicker than the standard training methods. Shock collars are frowned upon by people worldwide and seen as an inhumane device for dogs. They can cause injuries if overused, but one to one support is offered with some devices.
Remote control vibrating dog collars and Anti-bark devices are excellent training devices without electrical shocks. Invisible wireless dog fences are a great way of preventing your dog from escaping your garden but do provide a surprise. The choices are enormous, and I hope this review page has helped you make a suitable choice for yourself and your dog.