Are you looking for a good storage solution to handle your dog's food?
Dog food containers should always have an airtight seal so that the food can last long without odor. Besides this, dog food containers also keep the food away from manifestations of harmful pests like rodents and ants. It would be best to choose dog food containers made of food-grade plastics or metals to avoid infection and food poisoning in dogs.
Finding one of the best dog food containers for you and your pet can be slightly overwhelming with so many options.
The best dog food containers have an airtight seal that keeps your dog's food fresh, locks in odors, and prevents pests like rodents and ants from getting inside and helping themselves.
An online search for dog food containers shows you're spoilt for choice, making it tricky to decide.
We've done the hard work for you by finding the best dog food containers that look good and keep your furry companion's food fresher for longer.
This article covers the top 5 best dog food containers, how to choose them, and tips for using them.
Which Are The Best Dog Food Containers?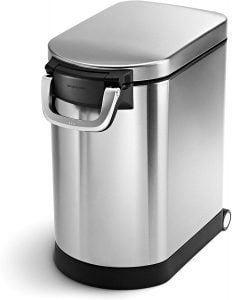 This high-capacity food can is the perfect combination of style and function. The BPA-free plastic bucket liner holds up to 35 liters of dog food, and the lid is gasket-sealed to lock in freshness. The sleek chrome design looks great in any kitchen, too.
More awesome features include a magnetically mounted scoop, wheels for easy maneuvering, and a locking handle clamp to keep curious pups out. Be sure to grab an extra food scoop if you're going for the more extensive option—it's a long way to reach down come dinnertime when the dry dog food gets low.
Available in medium (25 litre), large (30) and extra-large (35) sizes.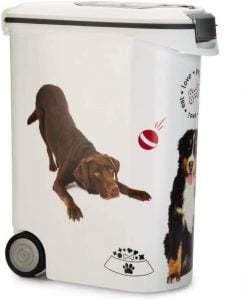 Curve Love Pet Container is not just an ideal food storage solution that frees up and organizes your limited space.
The container keeps your animal's kibble delicious, fresh, and healthy by keeping moisture, bacteria and pests out.
Dog lovers will appreciate the bin's cute style, featuring happy and smiling dogs. However, the container's qualities extend beyond its decorative attributes as it can hold an immense amount of food.
This product is ideal if you own big dogs with sizable appetites. Instead of purchasing multiple smaller bags, you can now buy in bulk and store the food effortlessly.
Thanks to the built-in wheels, you'll find the container sturdy and easy to move around. Moreover, you aren't confined to keeping the feed in the kitchen but anywhere dry and cool. The product's shape is also noteworthy as it can slot into smaller spaces out of the way and in plain sight.
Feeding your dog couldn't be more straightforward. However, the on-top flap can be a little tricky to use initially. At the same time, the scoop holder might not be to every pet owner's liking, but you can replace it with an inexpensive one.
The plastic receives mixed reviews because it's relatively thin. However, the container seems to hold up well over time and can be considered durable and great value for money.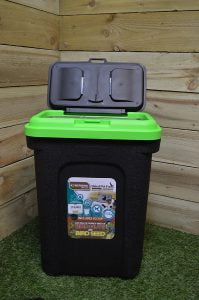 The KingFisher Storage Tub is a great storage container for your dog food, complete with rubber seals and a scoop.
This storage container holds up to 30litres of food and is completely airtight. It is excellent for owners of multiple dogs.
Amazingly, this airtight dog food container is lightweight, so it can be easily moved around, incredibly when empty.
KingFisher has significantly been reviewed for how fresh the food is kept when using this storage container. The low price is currently making this the best-selling item on Amazon. It is also the lowest-priced item of all the airtight dog food storage containers reviewed.
Although the container does state it stores around 15kg, this is more recommended for bird food and not dry dog food. Dry dog food will store around ten or 12kgs.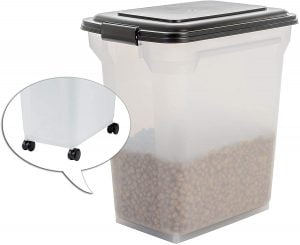 This airtight dog food storage container by Iris Ohyama is as essential.
A plain tube with a colored lid that is completely airtight.
The Iris Ohyama does come with a wide variety of lid choices so that you can match the decor of your room.
The Iris Ohyama also comes with wheels, so you can quickly move around once it has been filled.
The hinges on the lid have been known to be highly flimsy and, on occasion, fall off. Be mindful when using the product as if the lid does not work, the food will be exposed, and the container will not be airtight.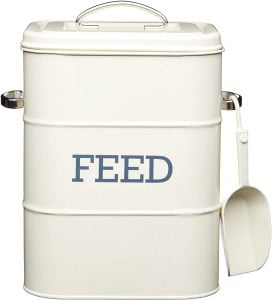 Vintage style Airtight Dog Food Storage Container. This sturdy steel tin is great for storing dog biscuits or dry dog food. With its handy lid, it keeps food fresh and dry for longer.
This storage canister is a piece of functional homeware from KitchenCraft's Living Nostalgia range. With its robust design and Antique Cream finish, it harks back to when things used to look gorgeous and last a lifetime. It's practical and is designed to blend beautifully with any décor.
As a final touch, the container has the word "FEED" printed across the front, so you'll never confuse the dog food for the laundry powder!
It measures 19 x 16 x 27 cm and can hold up to 3 kg of dog food. It's high-quality steel, with a secure lid to prevent moisture from spoiling the feed.
This is one of the smallest dog food containers and is one of the best-looking and long-lasting. Although not wholly airtight, this dog food container keeps your food completely fresh and secure and prevents moisture from getting to your food.
Why Should You Buy Dog Food Containers?
How you store your dry dog food is just as crucial as the kibble you purchase. Once a bag of dog food is opened and exposed to the elements, you must use it within a specific time frame.
Failing to seal your bag of dry food properly during this time can result in the food's faster degradation.
As a result, essential nutrients lose their potency, kibble gets rancid and becomes a health hazard, and the risk of bacterial contamination grows.
You can prevent waste and guard your pet's health by investing in a dog food container.
Three Things To Look For In Dog Food Containers
Materials: While plastic is the most popular choice, look for a plastic container that's BPA-free and void of any other plastic contaminants, as those can be harmful to your pet. Another option is stainless steel, which is highly durable and easy to clean.
Airtight Seal: While it's best to seal the entire food bag inside dog food containers rather than emptying the food directly into the containers, you'll still want as tight a seal as possible. This prevents bugs and moisture from getting in and spoiling your dog's food. Airtight options, like a screw top or gasket seals, are best.
Capacity: Make sure the storage container is big enough to hold your pet's food. Larger dogs require a larger pet food container, while smaller dogs can get away with a much smaller capacity. You'll also want to make sure you have the proper space in your home, kitchen or pantry to store this container.
Final Verdict
We love the sleek and sophisticated design of the SimpleHuman. The product looks good, but it's praised for its top-quality features.
The ideal dog food containers should be made from superior, durable materials, contain airtight seals and come with a secure locking system.
Please keep your dog happy with the food that retains its taste and nutritional value for longer!
So, which one is your favorite? Now that you know all about keeping kibbles fresh and tasty, you can feed your dog and save a penny on bulk purchases.
If you have already made up your mind, why not let us know in the comments section below. Also, share this article with your friends to learn from you, get sleek storage, and save on buying in bulk.