Automatic timed dog feeders ensure that the right portion of food is given to your dear dog even when you are stuck in traffic or work. They can either run on batteries or be powered by the mains as well. Some of the newer feeders even enable you to feed your dog through your smartphone. Besides dry food wet dog food can also be placed in them.
Searching for a perfect way to make sure that your pet has access to the proper dry dog food portions? Look no further than these Automatic Timed Dog Feeders. Timed dog feeders typically use batteries, but can be mains powered as well.  They ensure that the right portion size is given to your dog, based on your programmed actions.
Currently, there are many makes and models on the market which makes finding one very difficult.  However, before you make the choice of selecting one of the best-timed dog feeders, check out the rest of the page to help you make your decision.
Important tips to think about before choosing a timed dog feeder
Before selecting any of the Automatic Timed Dog Feeders, there are many things that can guide you, as a dog owner. The primary issue that all dog owners need to think about is the range of days that he or she is wanting to program their pet's meal.
Feed your dog Automatically
Is the feeding program temporary or permanent? Another thing that he or she should think about is the portion of food that he or she is going to be feeding your pet. Is the food aiming to be served in smaller or larger portions? The last and final issue to think about is whether or not the meals are to be served wet or dry. All in all, here are 3 reasons that you simply ought to place into thought before you decide on a timed dog feeder.
With some of the newer feeders, you can now feed your dog via your SmartPhone.  This really helps if you are stuck in traffic, out shopping, or anywhere that's delaying you from feeding your dog at the appropriate time.
Scheduling Your Automatic Timed Dog Feeders

As a dog owner, you can get a timed dog feeder that varies from 24 hours to 30 hours ahead. There are different advanced timed dog feeders that may permit the dog owner to schedule the pet's meals at totally different hours of the day.
How much food should I put in my automatic dog feeder?
An automatic timed dog feeder for dry food is the most common but you can get them for wet food also.
Any dog owner who is interested in purchasing an automatic dog feeder can also purchase feeding bowls. Also, the automatic feeders usually have a large storage bowl for food.  This can save you valuable cupboard space by just emptying your food into the bowl.
Advanced feeders also come with voice recording technology allowing you to say a command and the feeder will jump into action.  This feature also lets your dog know that their meal is ready and waiting.
Check out this YouTube video of the Andrew James Automatic Feeder (being used by cats)
Reviews for the Best Automatic Timed Dog Feeders on the market today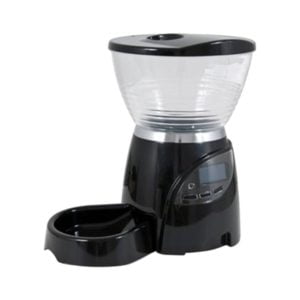 The Aspen Pet LeBistro is the cheapest and best selling timed dog feeder on the market today.  This feeder has all the features of the more expensive models and it's hard to find why this model is so cheap.  With Programmable settings, easy assembly and simple use, this feeder has it all.
Aspen Pet Lebistro Programmable Food Dispenser is an innovative feeder for busy pets and pet parents of the 21st century! Pet parents can program up to 3 meals a day, even while pet parents are away. Controlled portions help your pet maintain his healthy weight! This gravity feeder with a clear chamber allows busy pet parents to monitor food levels at a glance.
A consumer-friendly design allows you to store more food at once, eliminating the need to replenish your pet's food throughout the day. Microban protection helps prevent the growth of stain and odour-causing bacteria. The lid top makes refilling your feeder convenient and easy. Pet parents choose the perfect sized feeder to fit their pet's needs.
5lb dry food storage; Programmable food dispenser

Easy to program: Serves up to 3 meals a daily

Portion Control: serves from ¼ cups to 3 cups per meal

Worry-free feeding
2 Auto Pet feeder
With a compact and pleasing style, the Auto Pet Feeder comes in 3 sizes: small, medium and large. The size you choose depends on the size of your dog. The small-sized timed dog feeder has been built to serve pets that weigh about 0.45kg.
The medium-sized Ergo Automatic Dog Feeder has been designed to feed pets that weigh between 10 & 25 Pounds. The feeder also holds up to 4.5kg of food.
The large Ergo Auto Pet Feeder has the power to carry up to 20 pounds of dry food. This timed dog feeder has been designed to feed dogs that weigh 25 pounds in weight. All in all, the Ergo Automatic Dog feeder is programmed to dispense up to eight meals in one day.
Apart from having the ability to supply totally different food quantities of food, the Ergo Automatic Pet Feeder conjointly comes equipped with a digital timer to ensure you set a robust feeding schedule.
Key options
Comes with a daylight-savings time feature
Presents you with the power to manage your dog's weight
Will dispense up to eight meals in at some point
increased with self-lubricating nylon and over-moulded metal to stop the unit from ECM and conjointly provides a swish performance
Comes with a ninety-day pledge
Pros
Has the power to dispense up to eight meals on one day
A timer that supports settings from seconds to minutes
Works well with AC adapters and conjointly works with batteries just in case of a power outage
Has an airtight screw-on top
Every meal portion can be specifically set up for your dog's nutritional needs
Cons
Fitting this unit takes a slightly little bit of time
The unit has got to be destroyed for cleansing functions
The timer interface isn't user friendly
Customer reviews
According to reviews, this re-creation came with some major upgrades and improvements, compared to the previous model.
Andrew James Automatic Pet Feeders are a convenient and reliable way to provide REGULAR and REGULATED meals for dogs, cats and rabbits. Whether you're spending time away from home or simply have a busy schedule, the timed feeder will dispense pre-set amounts at pre-set times, so you don't have to worry about your pets going hungry or over-eating.
Settings:
Portions – There are 10 portion sizes to choose from, ranging from ¼ of a cup to 2 ½ cups of food. The cup size you choose is the amount that will be dispensed at each feeding time.
Times – The feeder can dispense up to 4 times in a 24 hour period. Once you've set the correct time, you can simply choose which times of the day food should be dispensed. You can set the feeder to operate for between 1 and 99 days – after the chosen period is up, an alarm will sound so you don't forget to schedule some more times! You can also set the feeder to just keep on dispensing at your chosen times every day until you decide to stop – just remember to refill the food as necessary.
Voice Recorder – The built-in mic lets you record a message of up to 6 seconds, so your pet will know it's dinnertime when they hear your voice.
Construction – The feeder is made of sturdy plastic and the tank and tray come apart from the base to make periodic cleaning easy. The lid locks into place and has anti-tamper clasps for added security. The transparent container conveniently lets you see when it's time to refill the food.
Batteries – The pet feeder requires 4 batteries, which are not included. A low battery indicator light will remind you to replace old batteries.
Approximate Size: 43cm high, 36cm deep including tray, 24.2 cm wide
Pros
Has the power to dispense up to eight meals on one day
A timer that supports settings from seconds to minutes
Works well with AC adapters and conjointly works with batteries just in case of a power outage
Has an airtight screw-on top
Every meal portion can be specifically set up for your dog's nutritional needs
Cons
Large and takes up a lot of space
Can be quite loud when dispensing food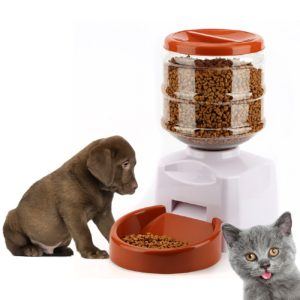 If you are busy with your work and unable to take care of your pets, you can choose this electronic timed pet feeder to care for your pets. It can dispense portions from 1/4 – 3 cups of food at 3 selected meal times per day, so you do not have to worry about your dogs or cats will be hungry when you are not be with them.
Features:
Hopper holds a 5.5L volume of dry food.
Dispenses portions from 1/4 – 3 cups at 3 selected meal times per day.
Handles a full range of dry food sizes, shapes and types.
Easy to program automatic pet feeder.
Calculates the total number of meals already served.
Voice recording at the programmed meal times (up to 10 seconds for 3 times)
Specifications:
Powered by 3xD-size batteries (Not included).
Types of food: dry dog or cat food only.
Dimension: approx.38.8×21.8×38.6cm (15.25″x8.6″x15.2″).
Weight: approx.1.7kgs (3.4lbs).
Colour: white.
100% Brand new.
Note:
Please don't use it to feed canned food, moist food or treats.
Suitable for:
This product is suitable for dogs and cats.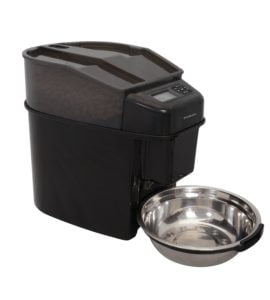 Fully programmable, the Healthy Pet Simply Feed is a convenient, stress-free way to feed your pet and simplify your life. It automatically feeds your pet per the portion and schedule you set whether you are asleep, at work or away. With its sleek style and enhanced features, the Healthy Pet Simply Feed design keeps both you and your pet in mind.
A conveyor dispenses most dry and semi-moist foods for portion control and accuracy, while the pet-proof dispenser keeps your pet from accessing the food.
The Slow Feed option is an ideal solution for a pet that eats too fast, helping prevent bloat and vomiting. Fewer refills are needed with the 24-cup capacity hopper. Dishwasher safe parts make clean-up quick and easy, giving you more time to spend with your pet. Offering custom meals to fit your pet's specific needs, the Healthy Pet Simply Feed provides peace of mind your pet is fed wherever you are – all while complementing your home decor.
Ideally, working with your veterinarian also helps with proper weight management by automatically giving your pet the portioned feedings they need and the consistent routine they crave–resulting in a healthier, happier pet.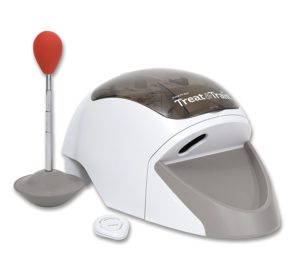 The Treat and Train Remote Reward Dog Trainer is a remote-controlled reward system that uses positive reinforcement for training dogs to behave at home and perform better in competition.
By rewarding desired behaviours, the system can be an invaluable tool in helping redirect a dog's focus away from barking at the door, jumping on guests and begging at the table. The system can also be used to train behaviours ranging from down/stay to coming when called and for special skills or agility training.
Key Features
– Trains through positive reinforcement – ideal for solving problems such as begging at the table, jumping on guests and barking at the door.
– Remote-controlled food dispenser.
– Extendable target stick with removable base.
– Hand-held remote operates from up to 30.5 M away.
– Two interchangeable food disks for both small and large kibble.
– Includes illustrated Instruction Guide and Instructional DVD.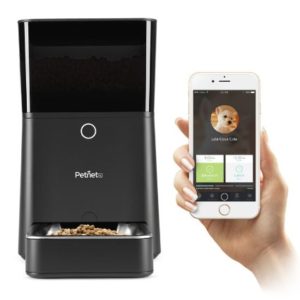 Petnet will help you make intelligent decisions when it comes to your pet's food — bringing you joy while keeping your pets healthy and happy. The SmartFeeder will help you manage feeding times, portion sizes, proper ingredients, and have your pet's food delivered right to your doorstep.
The Petnet App gives you peace of mind in the palm of your hand ensuring your pet is always being fed, no matter where you are.
SmartFeeder measures portions based on your pet's age, weight, and level of activity – so you can ensure your pet is eating the right amount of food every time.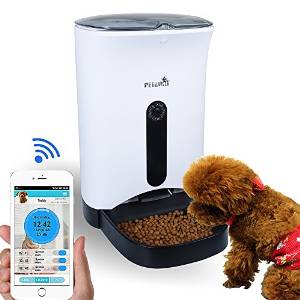 Like PetNet, the WOPet also has SMART technology that allows you to feed your dog from your smartphone.  Ensuring your dog has been fed while you're not at home.
Great if you are running late back from work / having a lazy morning in bed, this smart feeder will let you feed your dog from the comfort of your bed.
Free downloadable SmartFeeder software compatible with Androids, Apple Ios and tablets. When the SmartFeeder is offline or it isn't connected to Wi-Fi, it will automatically change its setting to "Offline Feeding Model," which will distribute food according to your setting
Easily monitor the amount of food served at each mealtime, and you can use your smartphone to control the feeder whenever and wherever you are located. With food measurements ranging from 10 grams to 100 grams per serving, you can cater the meal to your pet's specific dietary needs.
Summary
Having one of the amazing automatic timed dog feeders is ideal for those hard-working families.  Whether it's a full day or a split shift, you can always rely on the automatic timed dog feeders to look after your pets.  Most of these feeders are programmable and can easily be set up when your dog normally eats, but also if you know you're going to be out longer than expected, an Automatic Pet Fountain is also an ideal purchase.
This way your dog gets both Watered and Fed whilst you are not around.  Purchasing one of the timed dog feeders will be the best thing you ever did and you will wonder how you managed without previously.
Save
Save
Save
Save
Save
Save
Save
Save
Save
Save
Save
Save
Save
Save